We're quickly approaching the new year.
That means businesses are busier than ever.
Business owners, entrepreneurs, and marketing teams are already planning how to change things up for 2018– but even more importantly, they're trying to figure out just what they can do to keep pace with competitors and a constantly-changing marketplace.
Ecommerce is one of the most competitive, slippery, and quickly-evolving landscapes of all.
It's sometimes hard to keep up, but I think I can help you tame the chaos and feel a bit better about your Ecommerce business in 2018.
I decided to write a step-by-step guide that covers every aspect of Ecommerce Search Engine Optimization, because it's the best way I know how to help you.
This comprehensive guide will show you everything you need to know about optimizing your Ecommerce site.
I'm talking site design, keyword research, on-page SEO, technical SEO, and link building.
The whole kit and kaboodle.
If you're serious about organic search traffic, and you're willing to put in the time and effort, this guide is for you.
Feel free to jump to any section of this guide by clicking these links:
1. Current State of Ecommerce SEO
2. Keyword Research
3. Site Design
4. On-Page SEO
5. Technical SEO
6. Link Building
7. Content Marketing
8. Measuring ROI
Right now, we're at an interesting point when it comes to Ecommerce and SEO.
51% of Americans prefer shopping online rather to shopping in brick and mortar retailers. When it comes to Millennials and Generation X, that percentage is even higher..
67% of Millennials prefer online shopping, and so do 56% of people categorized as Generation Xers.
The following chart from Illumination Consulting illustrates some of the many reasons shoppers are turning to online stores.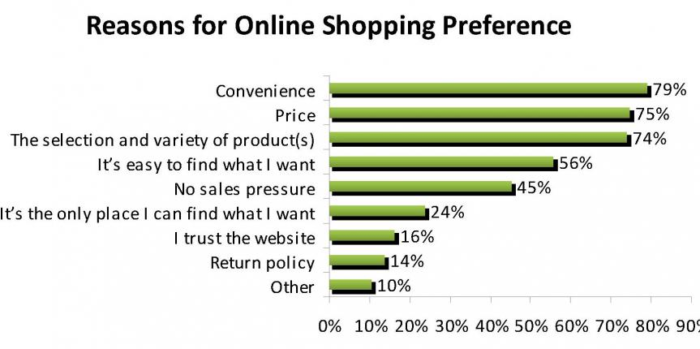 Even though Ecommerce and online shopping are pervasive, a lot of newer and smaller retailers still struggle to figure out how to acquire quality, long-term website traffic.
The question isn't if the shoppers are there or not– it's expected ecommerce sales will total more than $400 billion by the end of 2017.
Rather, the question is whether or not your store is ready to reach those shoppers.
If you manage to wrangle those shoppers in, you need to focus on enhanced customer experience. There are plenty of customer experience-related trends you can capitalize on once you have people visiting your site.
For example, some of the biggest trends on the horizon for 2018 is implementing chat bots on your website. These bots allow your customers can access to an on-demand service, like they'd encounter from a traditional retailer.
Video content and offering a wide variety of fulfillment options are also upcoming trends.
None of those customer experience items mean anything, however, if you don't have traffic coming to your site.
It's an exciting time to be an Ecommerce retailer, but it's also a chaotic, intimidating time. That's because Ecommerce means much more than just "selling online."
Furthermore, your customers have everything they could want or need right at their fingertips– on your website, or elsewhere if you don't offer it.
With that in mind, how do you stand apart from your competition? And, perhaps more importantly, how do you get your site directly in front of customers?
While so much has changed in the field of Ecommerce, and the ways of reaching customers and making sales have evolved, there's one big factor that's remained consistent.
That factor?
The need for strong search engine optimization and specific Ecommerce SEO.
In the simplest terms, SEO refers to the process Ecommerce site operators use to increase not only the number of visitors they have, but also the quality of that traffic.
Quality traffic is a massively important term here. If you have a lot of low-quality traffic, there's not much of a chance those website visitors will become the customers you want or need.
You don't just want a lot of visitors coming to your site– you want the right visitors coming to your site.
It's a simple concept, but the strategies to get that high quality traffic may seem anything but simple.
You work hard on your site, you update it frequently, and you have everything up and running smoothly, but you're not seeing the volume or quality of traffic you need.
So what gives?
In an effort to acquire more web traffic, you might even be paying for advertising. And there's a good chance you're not even seeing much ROI from your ad dollars.
You're probably experiencing all of these woes because your Ecommerce Search Engine Optimization planning and strategies just aren't at the necessary high level.
I'll admit, SEO is sometimes a tough practice to keep up with.
Search engine algorithms are always being updated and changing, which can seem frustrating, and even insurmountable.
But once you have a strong SEO foundation to build on, it's much easier to keep up with those changes– and also see consistent traffic!
The following guide provides a general overview of SEO, comparisons of organic and paid traffic, and the framework Ecommerce retailers need to to boost traffic and sales.
The Current State of Ecommerce Search Engine Optimization
At its core, one thing that's remained unchanged about Ecommerce Search Engine Optimization is the fact that it's organic traffic. This means that people are searching for terms, seeing your site and clicking. You're not paying for it so while it may take more of an upfront investment of time, you're going to get a lot more long-term value once you put that work into your site.
Google is undoubtedly the number one search engine, and they regularly update their algorithm, meaning they change the signals used to rank sites, but the core concepts have remained somewhat consistent over the years.
When you're ranking organically it means that you're placed on a search engine results page, also called a SERP, and you're there because you have optimization factors that are both on and off-site, relevant to the search terms being used.
When you rank on a SERP, it's going to show your title tag, your URL, and a meta description. In some instances such as with local SEO, you may also show up as a location on a map.
The overarching objectives of strong SEO, whether in Ecommerce or otherwise, is to match the content on your site to the intent of the person searching. You're then driving traffic to your site based on relevancy.
What About Ecommerce Paid Advertising?
There's another option which is called search engine marketing or SEM. This is also referred to as pay-per-click advertising, and it's not organic. Instead, what you're doing is spending a certain amount of money to show up in search results. It can provide you with immediate traffic, but there are pitfalls.
First is the fact that the ability to drive relevant traffic is dependent and constrained by your budget.
Also, it's not a long-term strategy, because it can be tough to keep the momentum of SEM going unless you keep spending.
That's not to say both SEO and SEM aren't valuable, but Ecommerce Search Engine Optimization tends to have more long-term value. With that being said, it's also harder and more time-consuming upfront.
A few things to consider when comparing Ecommerce SEO and SEM:
The cost of a single click is usually high, and when that click occurs, there's, of course, no guarantee a conversion is going to accompany it.
You often need a huge budget to get a campaign up and running when you're paying for it, and those costs remain when it comes to maintaining it. If you're just starting out with an Ecommerce site, you likely don't have a lot of money to put toward advertising.
The general trends show that while organic traffic does require time and money, the ROI is better than PPC.
One of the biggest concerns a lot of Ecommerce site owners have is the fact that the competition is tremendous.
The best thing you can do to break through the noise and come out above the competition?
Have your content rank on the first page for the keywords you're targeting in your niche.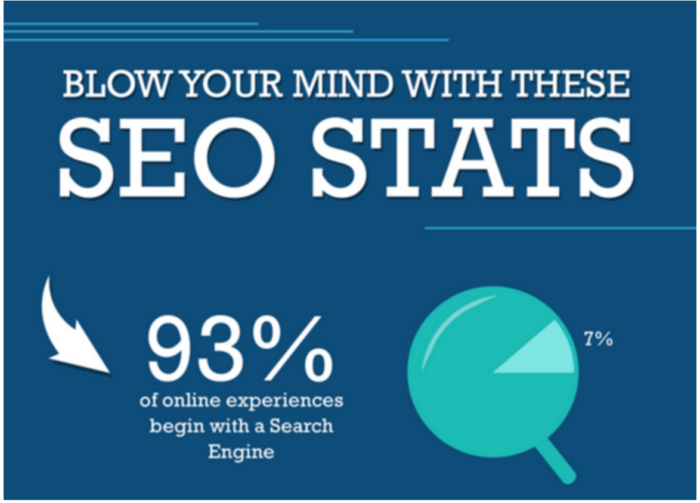 With this approach to driving organic traffic, you don't have to have the biggest budget to be competitive. You don't have to spend huge amounts on PPC to outrank competitors. You have more opportunities to be competitive even with bigger retailers if you focus on Ecommerce Search Engine Optimization.
Something else to think about?
While competitors might be able to replicate what you're doing regarding PPC, they can't steal your content.
Distinctive content is the best way to set yourself apart in a crowded landscape, and give visitors something they can't get anywhere else.
Still not convinced?
Think about this.
A strong content experience targets more customers, but they're also going to be more engaged. That means a higher likelihood that they'll buy and become loyal, long-term customers.
The following illustrates the comparison of SEO and SEM, especially regarding long-term results.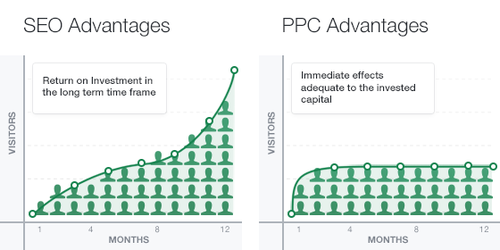 Image source: Unamo
When you're providing not just the products, but also the content, they're going to keep visiting your online store.
It's that simple, but also gets complicated.
So what are the steps you need to take to optimize your site and drive valuable users that are going to make purchases and come back again and again?
We'll go into the details below, but The Periodic Table of SEO Success Factors, put together by Search Engine Land, provides an excellent general overview to get you started.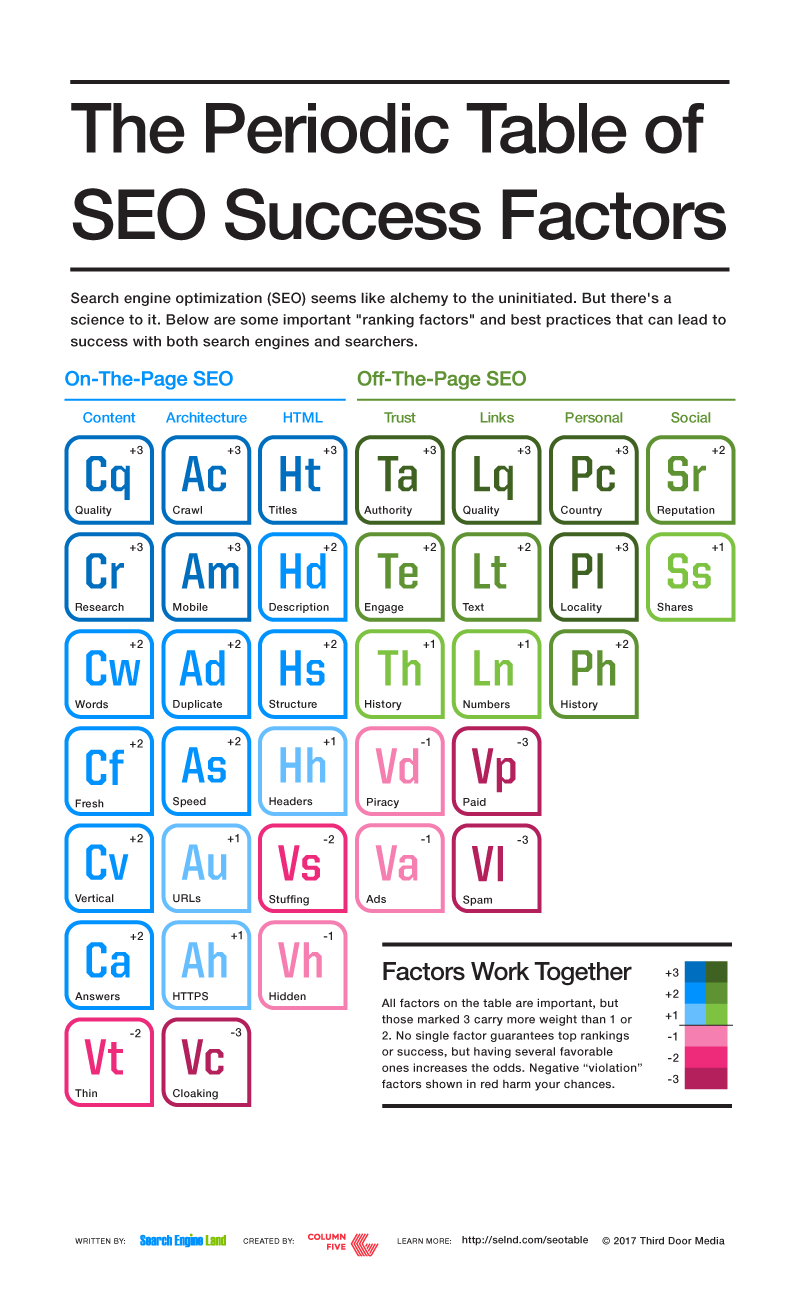 Keyword Research for Ecommerce Search Engine Optimization
There's been a lot of debate in recent years over the true importance of keywords, and whether or not they're relevant anymore.
The reason for this is because Google has become increasingly sophisticated when it comes to detecting how people really talk.
While Google may be adept at working within the framework of natural language, this doesn't mean keywords aren't still important. They're just important in a different way.
Rather than strictly thinking in terms of specific keywords, it can be more important to start your Ecommerce keyword research with ideas about meaning and intent.
You might be able to make small changes to keywords and still rank for them because Google can interpret meaning more so than the actual specifics of the worlds in many ways.
This is different from keyword usage in the past, where people could stuff them in regardless of whether or not they made sense or were used in a quality, relevant context.
The old way of using keywords started disappearing in 2011 as Google has become laser-focused on the overall user experience, and making sure they're giving users what they actually want when they search.
A few other general things to remember with keywords and kEcommerce eyword research in 2017 and into 2018:
Keyword placement is more important than the frequency with which you use the words. Yes, you want to make sure you're including the right words and phrases enough to rank well, but you don't have to keep repeating them throughout your content. The results of repeating keywords can be detrimental.
While the ways in which keywords are relevant has changed, and Google is pretty advanced when it comes to determining what's what beyond keyword stuffing, the fact is that people who are shopping online are going to still use these words and phrases, which is why they remain important.
So how do you start your Ecommerce keyword research since it remains a core, foundational element of good SEO strategy for Ecommerce?
Keyword Value
It's important to find not just keyword relevant to your site but to determine the value of those keywords.
A good starting point is to look at the e-Commerce sites you view as your competition and begin seeing how they rank for certain keywords.
Even though Ecommerce SEO is distinctive from SEM, you may even be able to use some elements of SEM as you get started on your keyword research. You can spend a small amount of money to see the value of certain keywords and specifics like keywords and click-through rate.
You might not have a huge budget to spend on SEM, but it can be valuable for is helping you determine certain metrics and for narrowing your focus regarding keywords.
Keyword Length
Long-tail keywords also tend to be more likely to lead to conversions. So while it could be great to rank well for a giant term like "dress" the person who's searching just for "dress" probably isn't at the point where they're ready to make a purchase.
On the other hand, someone searching for "black cocktail dress size six" is much more likely to be ready to make a purchase.
Keyword Research Inspiration
Something else to think about when you first begin your Ecommerce keyword research is the fact that keyword planner tools can be helpful, but they shouldn't be your first stop.
The reason is that these tools are only going to show the words that are very closely related to the search terms you're already putting in, so you're going to be somewhat limited if this is your only method of coming up with keywords.
Instead, start your research with looking at niche topics.
Niche topics should be related to your core niche, and they should also be things that your customers are going to be interested in.
If you're a women's clothing retailer, some niche topics could include certain styles, such as boho chic, or they could be related to how to dress for certain occasions, just as an example.
Once you have a list of niche topics, you can move on to start thinking about buyer personas for the people you're targeting as your customers.
Think about who they are, what their income is, their interests, and what possible pain points might be for them.
You'll likely have several different buyer personas, and they should get as detailed as you can come up with.
This allows you to put yourself in their shoes, and think as they do, which is so important for coming up with keywords and search terms they're likely to use.
Take this example of a buyer persona from BarnRaisers.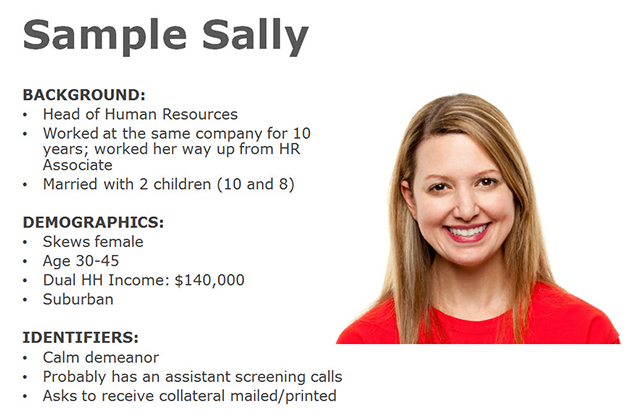 Another way to get ideas when it comes to finding keywords outside of the use of keyword tools is to browse forums related to what you're selling.
You can learn more about the topics that your potential customers are asking about and talking about, and you're going directly to your ideal customer in many ways.
Don't just look at the topics being addressed in forums—also go through the threads and see the specifics. Write down possible keywords as you do this.
Reddit tends to be a really good place to do some research on the topics your possible customers are interested in.
Now, you can start getting into the specific keywords you might use.
Keyword Competitiveness
There are varying levels of keywords based on competitiveness.
Head keywords are usually one word, and they have a huge amount of search volume but also a huge amount of competition. They're also not likely to convert that well, as was touched on above with the example of "dress."
Then, there are keywords that usually contain two to three words (so really, more like key phrases), and they're more specific than general head keywords. They're less competitive than head keywords, but still pretty competitive.
From there are those valuable long tail keywords.
These are phrases with four or more words, and they get pretty specific.
The search volume is lower, but these are the searches that make up most of what people are looking for online.
The majority of your Ecommerce keyword research should focus on these long tail options.
Okay, so this gives you an overview, and while the topic of keyword research could go on and on, we'll keep it brief, since the objective here is to give a general overview of SEO for Ecommerce. Each of the specific topics can be researched more on its own, once you have a guided direction from this post.
Before we fully wrap up keyword research, however, what are some tools you can use, once you're ready to get more specific?
Keyword Research Tools
There are a lot of options out there, and the ones you go with will depend on your preferences primarily, but to get you started, here are a few great research tools.
SEMrush: This tool is good for short and long-tail research, and it combines search tools for paid and organic traffic. If you're an international Ecommerce retailer, they also offer country-specific tools. You can see what competition is, whether you're looking at PPC or organic, and there are also search customization options with really advanced search details.
Google Keyword Planner: This is designed specifically for paid search for Adwords, but it's helpful for general research. It's simple and especially good if you're new to the whole keyword research thing.
Moz Keyword Explorer: Moz has a good user-friendly interface, and different ways to see search volume and competitiveness are shown. There are also detailed keyword suggestions offered. This isn't a free tool, but it's a good one.
These are by no means the only keyword research tools, but all three are good options.
Ecommerce Site Design
Ecommerce Site design or architecture refers to how you set up the navigation of your site, as well as things like category and product pages.
There are a couple of simple, foundational concepts to keep in mind with site design.
The first is that it should be something that's simple, but you want a design that can grow with your store over time.
The next is that you need to make it easy for your visitors get from page-to-page, with a limited number of clicks. This is important from the standpoint of having a user-friendly site, but it's also important for Ecommerce SEO.
Basically, you want your site set up in a way so that authority goes from your homepages to your category pages to your product pages.
A good site design from an Ecommerce SEO perspective would include your homepage linking to all of your primary category pages. In some cases, it may also link to certain product pages.
If you're a beginner, take a look at your competitors and see how their site architecture looks. How deeply are they linking and how does their navigation look?
Some other things to consider when you're setting up your Ecommerce site, with SEO in mind:
Your domain and subdomains are incredibly important, but that doesn't mean you need your keywords in your domain.
When you're setting up your site, you need to give search engines something to read and understand, and this needs to be in the form of text. You want direct, clear language backing up the design of your site because when it's being crawled, this is what's going to be read. Of course, images are important, but content needs to have the right wording to go along with it.
You also need crawlable internal links. You can use a tool like Screaming Frog's SEO Spider to determine where potential problems exist in the design of your site.  The SEO Spider looks at links, images, script and more to give an evaluation of onsite SEO. SEO Spider looks for broken links, server errors, redirects, and analyzes metadata and page titles to make sure you're optimizing the way you should be. You can also create XML Sitemaps, and integrate it all with Google Analytics. Definitely worth taking a look at for Ecommerce businesses.
Your site architecture needs to be based on your keyword research, but also on a logical path your customers will follow.
Some internal linking from one page to another on your site can be advantageous too, just don't go overboard with it.
The following is a sample site structure, which shows what an Ecommerce store selling pet food might theoretically look like.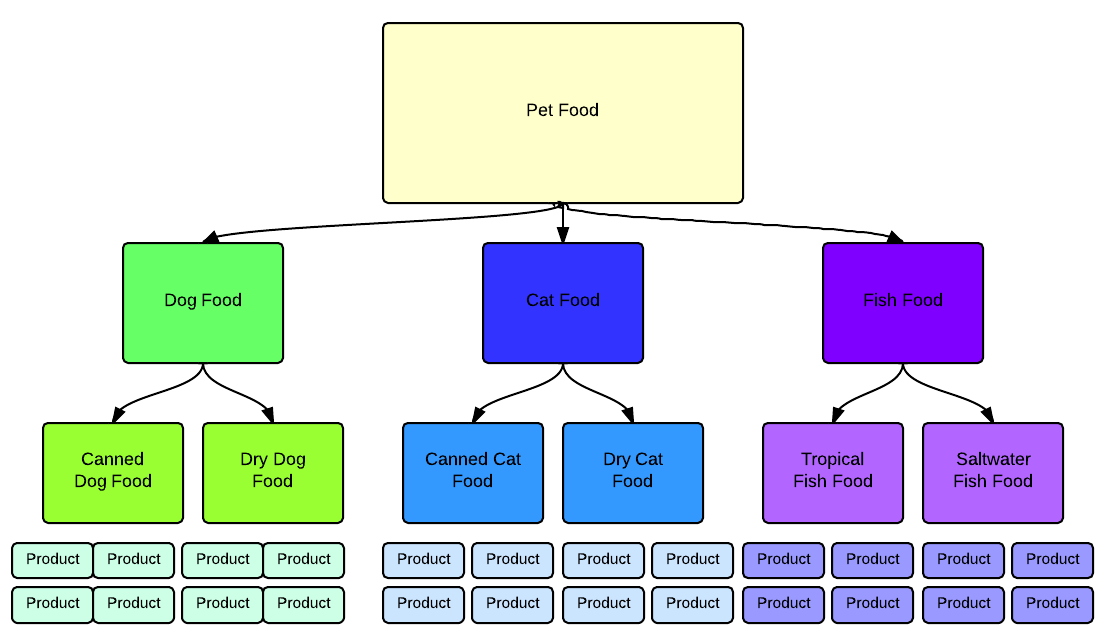 Everything else regarding Ecommerce site design should be focused on the experience of the user.
The happier your visitors are from the time they first visit your site, through checking out after a purchase, the more likely they are to keep coming back.
Also, users will spend more time on your site, which is valuable from a sales but also an SEO perspective.
You want to make sure it's easy for customers to contact you, and find what they need quickly and simply.
Make sure the user experience is strong across devices because so much of your traffic is going to come from mobile devices, think about adding customer reviews and integrate your site with your social profiles.
Ecommerce On-Page SEO
Okay, moving on to the next topic which is on-page SEO for Ecommerce.
On-page SEO is a term that refers to optimization of individual pages that are part of your Ecommerce site. The goal is the same, which is to increase relevant traffic and boost your rankings.
Category Pages
With Ecommerce on-page SEO, probably most important to think about are your category pages. When someone is searching for things that you sell, and they come across your category pages thanks to your Google ranking, they then see everything within that category, instead of a single product.
That increases the chances they're going to see a product that fits their needs.
Whether your site is a blog or an Ecommerce site, the category pages are more important than single pages or posts on their own.
With Ecommerce specifically, one of the reasons for this is because your products are going to change over time more than likely, but your categories will remain the same.
You should put a lot of attention on category pages because they're going to be a permanent source of good rankings if done correctly.
Another reason categories are so important is because they can help prevent your single products from working against each other and becoming competitors.
You can boost your category page rankings, without worrying about the possibility of damaging rankings of individual products through your self-created competition.
A few things to keep in mind with category pages and how to optimize them:
Ensure that your main keyword is included in the URL but leave out words like "collections" because it can actually complicate to the point that Google doesn't like it.
Include your category keyword in the title tag, as close to the beginning as you can get it.
Make sure you include some content on your category pages following your H1 tag as well. Aim for a  minimum of 300 words, with your keyword used a couple of times, without over-using it. Two to three times is probably ideal here.
Use your keywords in the alt text as well, which is used by Google to determine what images relate to or show. Your images for category pages will likely be banner images, so make sure that you optimize them.
Include your keyword in your metadata for each of your category pages as well.
If you're still not entirely convinced of how important category pages are, look at the following search results, highlighted by Get Elastic. Category pages are pulled up much more often than an individual product, as you'll see from these examples: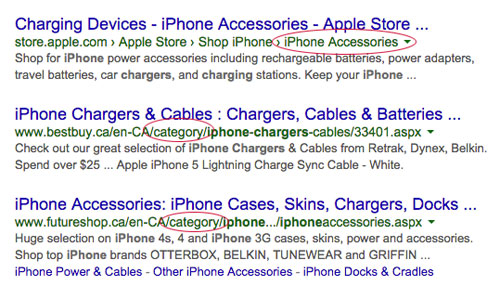 Figure 10 Get Elastic
Product Pages
Most of what you did with your category pages needs to be done with products as well, with a few exceptions.
First, you need to make sure you write original descriptions for all of your products. This can be time-consuming but worth it.
A lot of Ecommerce retailers are dropshippers, or they just take descriptions straight from the wholesaler's site, and this is problematic regarding SEO, so take the time to make each description original.
You might not be able to do 1000 words for every product, depending on how many are in your store, but pick a few of your top products and do a longer description for them. You can also always work in batches, so you pick a few products every week and write an original, long description for them.
Longer descriptions are valuable because long-form content is what Google prefers.
Something else to add to your product pages is the opportunity for your shoppers to leave reviews.
This isn't just helpful to improve conversions, but those reviews can provide you with more words, and improve your ranking as a result.
Just as a side note about reviews—they're important. Really, really important.
According to the Internet Retailer, product reviews on an online store can increase conversions by anywhere from 14 to 76 percent, and 88 percent of customers have as much trust in reviews as they do personal recommendations according to Bright Local.
If you're concerned about your ability to do all these long-form product descriptions, it's best to come up with a structure and format you follow with each one, so you can somewhat automate how you're doing it.
For example, do something like an intro, a list of key features, and then you can go into more details from materials to how a product can be used.
Here's an example of what an optimized product description should ideally look like.
Below is an example of a long, informative product page, and it makes sense to spend the time here because as you see, it's a higher-priced product.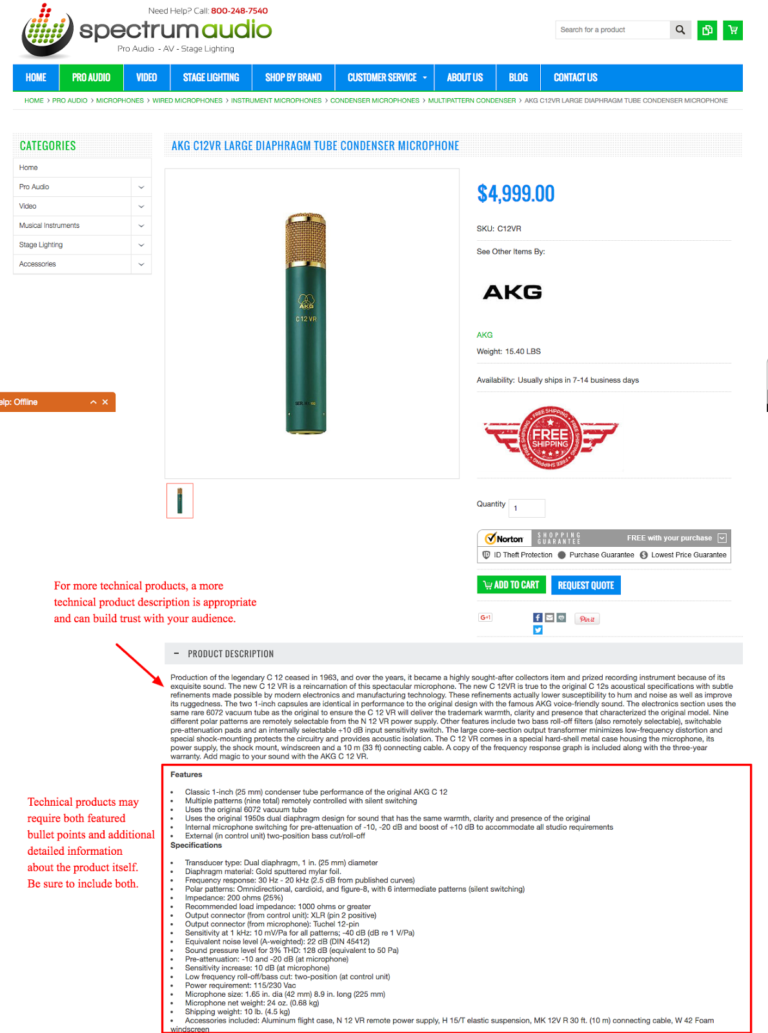 Image source: BigCommerce
There are some core components of Ecommerce on-page SEO to focus on, regardless of the type of page you're working on.
You want to think about keywords, internal linking, usability, customer reviews and also how you integrate social media.
When you're optimizing pages specifically regarding keywords, the following are the elements you should always include:
Page title
H1 headers and subheaders
Copy (the detailed paragraph-style write-ups for the category pages and products)
File names for images
Image alt tags
Meta title and description
URLs that include real keywords and are simple and to-the-point
Technical SEO for Ecommerce Sites
Ok, when it comes to technical SEO, it's not a topic we're going to dive into deeply in this guide, because it definitely stands alone in many ways, but giving a general idea is worthwhile.
A few key things as it pertains to technical SEO and Ecommerce sites:
There are a lot of SEO tools that can be used to help you. Some of these include Google Analytics and the Google Search Console, among quite a few others.
You want to perform an SEO audit regularly to see how you're doing, and where you need to focus your efforts.
Crawling your site is probably the most essential part of technical SEO because it will show you things like broken links that are on your site, or duplicate content.
Consider how your homepage looks as well. Look at header tags, whether or not you've optimized a custom meta description, and just whether or not the homepage looks good from an overall SEO perspective.
If you find that you have duplicate content, fix it ASAP. This could be duplicate content within your own site, which isn't good, or it could be outside of your site. Change what needs to be changed.
Site speed isn't just about the user's experience—it's also related to SEO. You can't rank well if your site isn't optimized when it comes to loading time and speed. You can check this by using the Google PageSpeed Insights Tool.
Link Building for Ecommerce Sites
Links are arguably one of the most important ranking signals when it comes to Google.
Building relevant links is difficult, and it's about quality rather than quantity, which has become more obvious every year as Google has worked to put a stop to spam and poor user experiences.
Some of the benefits of links include the fact that they're permanent and public, so they're not just going to disappear into obscurity like a social media post.
Links also build your domain authority, particularly when you can get high-quality backlinks. The best links come from sites with high Domain Authority (DA) rankings, and this is a measure of how trustworthy a site is, as well as how popular it is.
The sites that are considered to have the highest DA rankings are the ones like Forbes as an example, and while you might not get links from the top ranking sites, you should be aiming for links from the sites with good DA rankings.
Link building is considered off-page SEO, so it requires a different level of work than your Ecommerce on-page SEO, and you have less control over it, but considering its importance, it's worth it for online retailers.
There are several different Ecommerce link building models you might follow.
One example is working with resource pages to have your links listed. You can do this by reaching out to these sites or submitting your information on their contact pages.
There are also opportunities that happen when you partner with people who are considered influencers in your niche.
For example, if you have a clothing website, you might want to work with fashion bloggers who have a similar audience to your targeted audience.
Links could come from a blog post an influencer writes, or just having a link on one of their own pages.This is where the power of relationship building can come into the equation, or you can work with a professional link builder who can do a lot of this for you.
Another way to approach Ecommerce link building is by looking for broken links that exist in your niche. You can identify broken links then reach out to the site owner and let them know you have something that would be of interest to their readers.
Finally, with SEO for Ecommerce, you can also look at your competitors to see where they're getting links from. Then, reach out to those same places.
Sometimes it can take not just building a relationship, but maybe sending over something for free to build links.
The biggest things to concentrate on with link building for Ecommerce sites include having quality inbound links.
If you have a bunch of low-quality sites linking to your store, it's not just going to have no effect.
It can have a detrimental effect. You'll be penalized by Google, and also if you're getting low-quality links it may increase traffic, but it's not going to lead to sales.
In some ways, it can be tough to do link building when you're an Ecommerce retailer, because not a lot of bloggers or publishers are going to be interested in linking to pages of products.
Just like you, they're focused on quality, so that's why the next area of this guide is so important, and that's content creation.
If you have great content and informational resources related to your niche, you have something to offer as you build links.
Ecommerce Content Marketing
Content marketing is so important for Ecommerce sites from almost every aspect of business and SEO.
You need great content to drive quality traffic, but you also want to have something to offer an audience aside from your products.
As was touched on above, it's also excellent for Ecommerce link building when you have valuable content that can be linked to.
Some of the big trends in Ecommerce content marketing right now include:
Creating a sense of transparency and building a narrative
Building relationships with influencers and other people who you can turn to as a marketing partner
Providing an engaging experience for an audience beyond just trying to make a sale
Creating longer-term relationships with customers
Providing opportunities to measure your performance and get a better idea of your audience and where you can make changes and tweak your strategies
Of course, Ecommerce content marketing also gives you the chance to continue naturally using your keywords to drive organic traffic.
There is any number of types of content an Ecommerce retailer can start with, even outside of a blog post.
There are e-Books, interviews with someone relevant to your niche, and even video content that creates a story.
Rather than just trying to churn out blog post after blog post, really look at what works and what doesn't, and think outside the box.
Ideally, with your Ecommerce on-page SEO strategy, you're going to have each page optimized with a single keyword, so using other types of content gives you the opportunity to expand your use of other important keywords—but as has been touched on throughout this guide, no keyword stuffing.
When you're doing your keyword research, think about content creation and how your research will feed into that.
Look at forums and other places where you get ideas for keywords. Look at your competitors and see what they're doing, and use content creation as an opportunity to do something and create a voice that no one else can.
When you're writing consistent, quality content Google is indexing it and ranking it. Your audience is finding you more often the more content you have, and your rankings go up.
You also have the opportunity not just to increase traffic, but to increase conversions by building a relationship and a sense of trust with your audience.
Also, going back to link building, the more amazing content you have available, the more quality links you're likely to get back to your site.
Google wants you to keep it fresh. Yes, having some really strong evergreen content is good, but so is setting up an editorial calendar and regularly adding new content. Ecommerce content marketing isn't something you can put on autopilot because you need consistency, but what you can do is find what works for you and create templates to make it a faster, easier process over time.
View content marketing as a way to build your authority and integrate it with your SEO strategies, rather than looking at the two concepts separately from one another.
In case you want an example of an Ecommerce site that embraces and maximizes Ecommerce content marketing, Nordstrom is a good one.
They have a wide variety of fashion guides that show you what you need to know to do things like buying the perfect suit.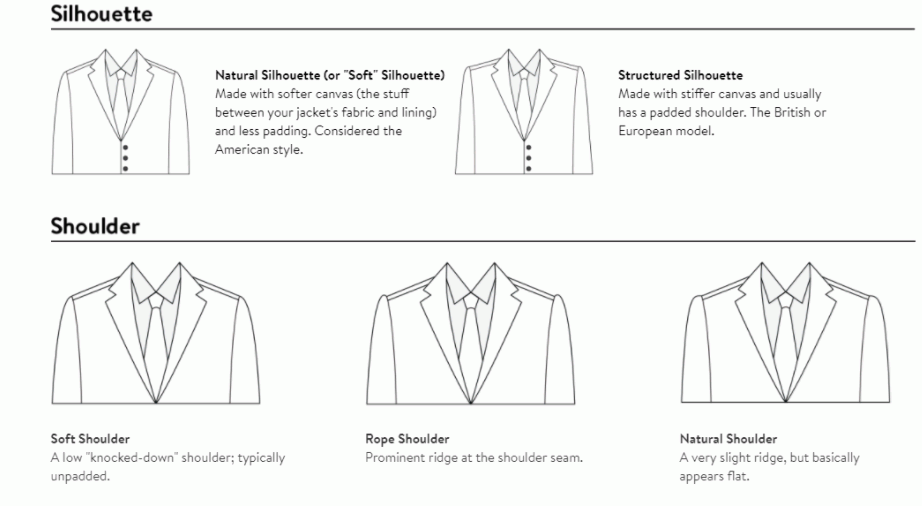 Another prime example is outdoor retailer REI. They have something called the Co-Op Journal, which covers everything from tips on how to become a yogi, to stories from real customers who live out their adventure dreams.
How to Measure It All
Alright, so you're feeling like you're ready to dive in and follow everything on this guide.
But, not so fast.
How do you measure it all?
How do you know what's working and what's not?
When is it time to make a change?
Analyzing your SEO strategy on a regular basis is so important, but also overlooked.
When you're going with a PPC strategy, you can look at your Adwords dashboard and instantly see what's working and what isn't, but things are as apparent or immediate with SEO.
By and large, Google Analytics offers the best tools to see how you're doing.
First, you can go to your Channel Grouping report and find your organic search traffic.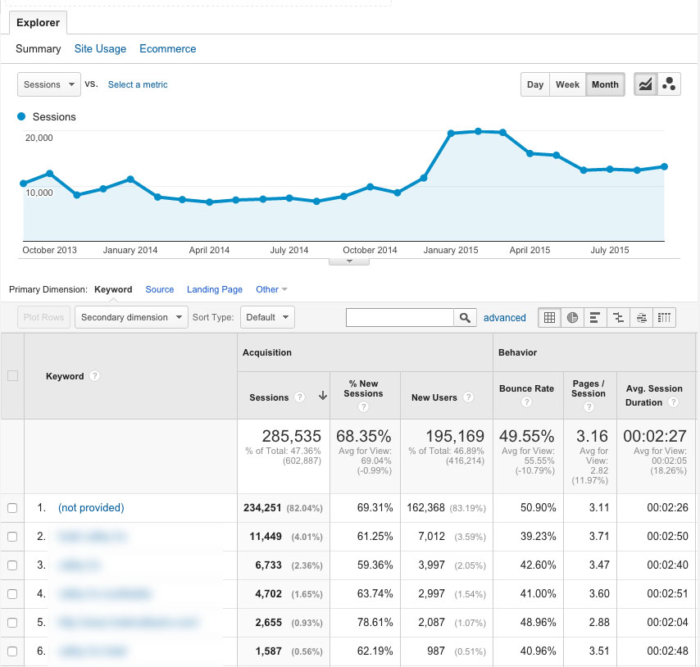 You can also use the Assisted Conversions report, which will show you the quality of your traffic. You can compare them month-over-month or in different ways to see if your efforts are leading to an increase in not just your traffic, but your conversions related to traffic.
You'll consistently want to keep an eye on the speed of your pages loading as well.
Another possible tool you might want to use is the Ahrefs Rank Tracker. It's not a free tool, but it doesn't get much simpler than this one.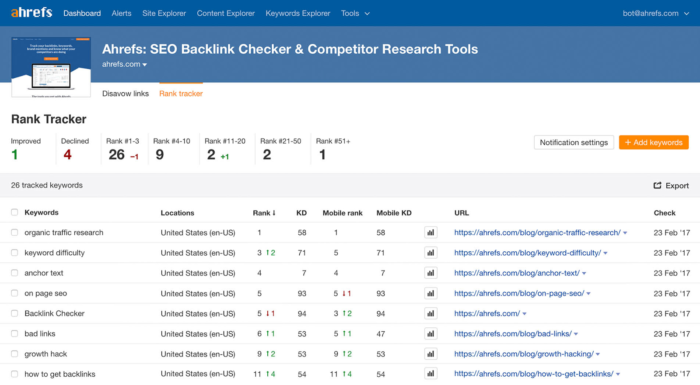 You can do a lot with this tool, including signing up to get regular reports by email and seeing things visually with their different graph options.
Regardless of the tools you use, two of the primary things to measure Ecommerce SEO success include increases in traffic from searches, and where search traffic is going regarding landing page. Then, from there you can look at specific keywords and how you're ranking.
Measuring the effectiveness of your SEO strategies isn't always dramatic at first, but is more about long-term trends.
Look for small gains and improvements as signs you're heading in the right direction.
Maximize Opportunities
Ecommerce retailers are facing huge competition just because of the nature of the retail industry, but that doesn't mean there aren't still opportunities.
SEO offers the chance to stand out from other retailers, build connections with your customers, increase conversions and boost revenue, but it's not a quick fix or something that can happen overnight.
Instead, it's about building a methodical strategy using tips like the ones above, and finding what works for your site based on SEO best practices.
Where do you see your Ecommerce SEO strategy headed in 2018 and where are you putting most of your focus?