Do you ever think about the world's most popular websites and wonder, "How do they do it?"
Not only do they get millions of page views a month, but their followers are engaged, too.
What's the 'magic bullet' for these websites?
The one thing that brings in those devoted followers and a hefty sum of money every month?
I can tell you one thing, for sure.
The websites that are crushing it on the marketing front understand the importance of being seen and heard.
They know that great content on its own is not enough, and neither is posting a compelling offer.
After all, what good is an amazing website if no one ever finds it?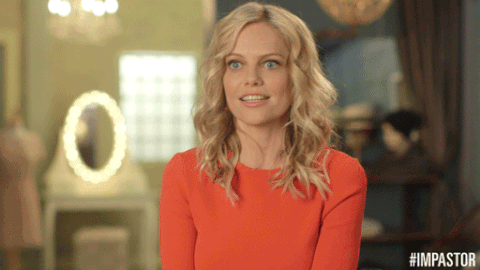 So, you need visibility, but here's the thing– it's easy to get sucked into the strategies that promise bigger audiences and a larger reach.
Webinars, Facebook ads, guest blogging, influencer outreach… you name it.
It's all been tried and tested.
Some of these strategies may work for you, and others won't.
But there's ONE strategy that slays all the rest in terms of results and sustainability.
Search Engine Optimization.
It's the long game.
And, in a world where marketing gimmicks are rampant, the long game is often the smart game.
That's why I wrote this guide.
I want absolute beginners to create an SEO strategy, run with it, and win with it.
Whether you're brand spanking new to the concept, or you already have a few techniques up your sleeve, this article is for you.
First, let's briefly define Search Engine Optimization.
What is Search Engine Optimization
Here's the textbook definition of Search Engine Optimization from Wikipedia:

I'll simplify it some more.
SEO is a form of marketing. It's a series of actions that you take to optimize your content, so more people find it online.
It's an organic strategy (as opposed to paid advertising), which means you don't have to pump cash directly into Search Engine Optimization to see results. That is, unless, you outsource the job to someone else.
To truly understand Search Engine Optimization, it's essential that you get a sense of how search engines operate.
Google, Bing, and the rest have two primary jobs:
Process the content on the web and build an index
Give searchers a ranked list of content based on what's relevant to the user's search query
Knowing that, SEO becomes an easy nut to crack.
First, you need to help search engines process and index your content. Secondly, you need to optimize your content, so it appears at the top of that ranked list.
Simple enough, right?
So why is any of this necessary?
The primary goal of Search Engine Optimization is to gain visibility for your site.
It is not enough to publish content, say three Hail Mary's, and hope that people stumble across it.
But if you create the kind of content that search engines can digest and serve to users as the superior result to their search query, you're in business!
More targeted traffic. More qualified leads. More cost-effective customer acquisition.
I can go on, but this article isn't about selling you on the merits of search marketing.
Instead, let's get into the "What" and "How" of SEO.
The two pillars of Search Engine Optimization
Search Engine Optimization takes place on two battlefronts: On-page and Off-page.
On-page SEO has to do with what you do to a webpage on your site to make it more search-engine friendly.
You can directly influence this factor by optimizing things like:
Headline
Tags
URL structure
Page speed
Page content
Internal Linking
Off-page SEO concerns variables outside of your site. The difference is this pillar of SEO is not solely up to you.
It has a lot to do with what signals that search engines get about your site from other people.
It includes factors like:
Backlinks
Social sharing
Trust and authority
Brand awareness
Context of the searcher's life as it relates to the search engine (their geography, their intent, their past behavior, etc.)
So which pillar of Search Engine Optimization is more important?
They're equals, and they need to work together for a successful strategy. If you do one without the other, you'll inevitably sabotage the integrity of your SEO.
I'll borrow an analogy that others have used to put this into perspective.
Imagine that you're building a home. Isn't the roof as important as the foundation? Isn't the outside landscape as consequential as the inside?
Yes, and yes. That's how you should look at on-page and off-page SEO.
This guide will cover both.
6 Steps to Search Engine Optimization Mastery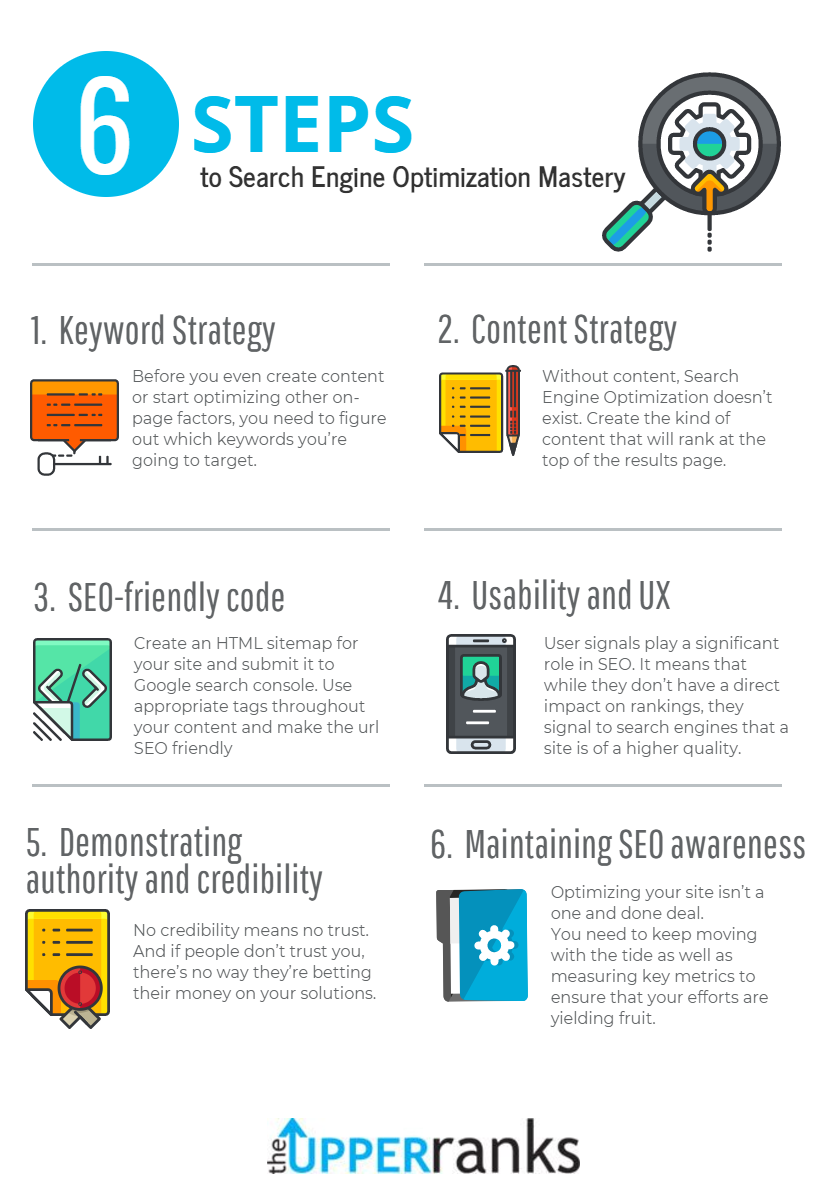 Step 1: Keyword Strategy
Keyword strategy is where Search Engine Optimization begins.
Before you even create content or start optimizing other on-page factors, you need to figure out which keywords you're going to target.
The point of this is to determine what search terms your target audience is using when searching for content.
This way, you'll be able to optimize your pages for these keywords so you can get ranked.
But keywords do a little more than just getting your content found. They give you some context about the user.
What is their intent? What are their pain points? How about their desires?
A reliable keyword strategy will answer all these questions.
Here's a step-by-step plan to find your golden keywords:
Step #1: Build a list of topics based on your niche.
Most people start their keyword research with a tool like Google's Keyword Planner.
Don't do that. You'll end up with no concentrated focus.
Instead, think of keyword research like creating a family tree.
You start off with a small group of broad topic buckets, and then you branch out into more specific search terms.
Come up with 5-10 niche topics. These should be easy to come up with from the top of your head. Put yourself in your prospects' shoes, and think about what broad topics they may be interested in.
For example, if you're in the SEO niche, your broad topics may include keyword research, content marketing, link building, etc. (kind of like how this post is organized).
If you have trouble coming up with these topic buckets, here's a neat trick.
Go to Amazon in the book section, and type in your niche in the search bar.

You'll find a bunch of results. Click on one of the books with great reviews. I used "weight loss" as an example.

Most books allow you to look inside so you could see the foreword and the table of contents.
Click on the icon that says "look inside."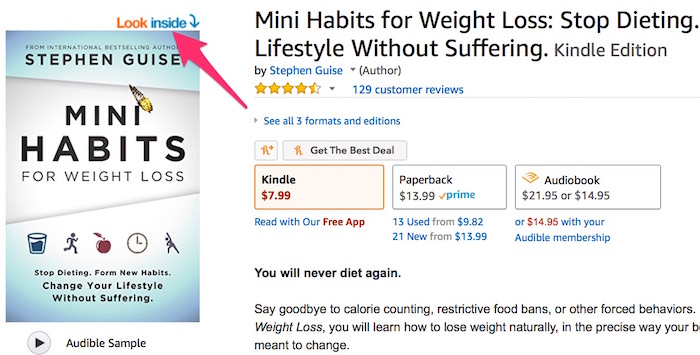 You can pull the general topics in the table of contents as inspiration for your topic buckets. I recommend going through a couple of books before you finalize your top 10.
Step #2: Gather a large list of potential keywords based on your niche topics.
Now you can use a tool like Google's Keyword Planner. It will give you some specific keywords related to your broad topics.
You can select any one of these three options to do your search. The first one is my go-to.
Type in your topic, configure the search options, and click "get ideas."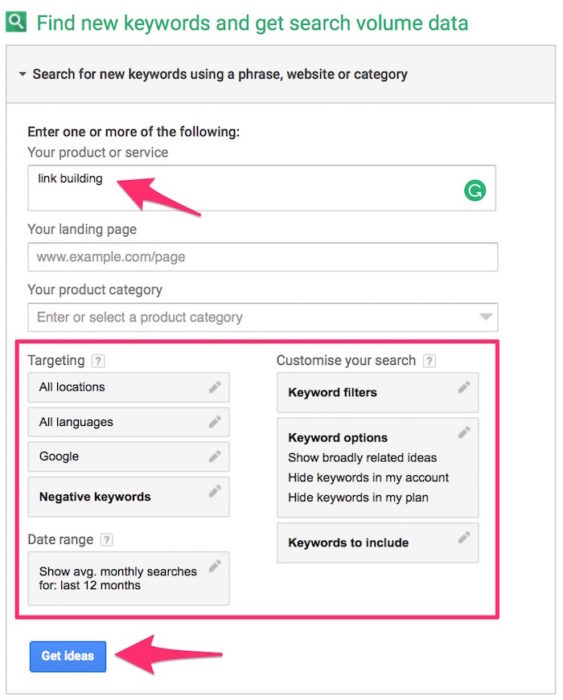 You'll see two tabs: "keyword ideas," and "ad group ideas." Explore both of them, and you'll have a long list of potential keywords.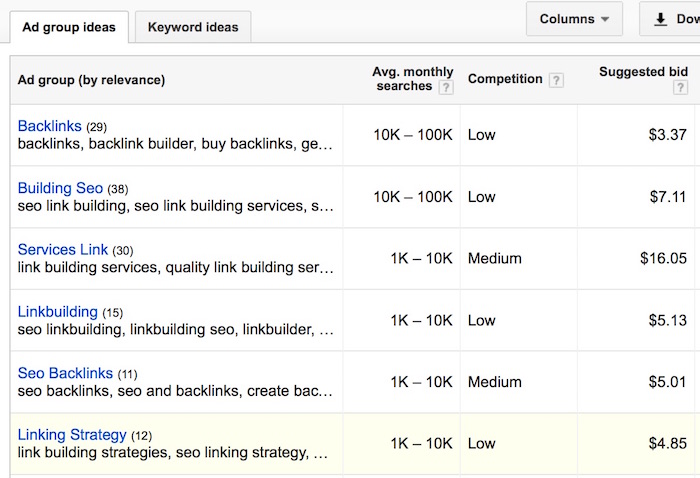 I recommend taking down all your possible keywords in a spreadsheet.
You won't use all of them.
So how do you know which keywords are worth targeting? Search volume and competition level.
Although it's not entirely accurate, the keyword tool does an excellent job of estimating this for you.
Here are some likely scenarios:
Scenario #1: High competition and high search volume
Most broad keywords will fall into that category. While the high search volume is attractive, I wouldn't recommend making these your primary targets.
They're just too competitive, and ranking for them can take months-years of strategic Search Engine Optimization work.
Also, these keywords are too broad to suggest any commercial intent. They're not great for sales conversions.
Scenario #2: Medium competition and medium search volume.
These terms have enough search volume to make an impact and not too much competition. This means they're the sweet spots.
Scenario #3: Low competition and low search volume
Sounds undesirable, doesn't it?
But here's the thing about these keywords:
Even with their low search volume, they're high-impact. Long-tail search terms fall under this category.
They're excellent targets for a few reasons.
You can always make up the search volume by targeting more than one long-tail keyword.
They're super specific which means they can give you a lot of context about the user.
Unlike broad terms, they signify high purchase intent. If someone uses more specific search queries, they're likely more aware and further along in the buyer's journey.
Now:
The keyword planner won't give you the best long tail keywords.
Here's how to find them.
Use a tool like Keywordtool.io or Ubersuggest. These have a more extensive variety of long tails.
You can also use Google. Type in your broad keyword, hit search, and scroll to the bottom of the results page for related searches.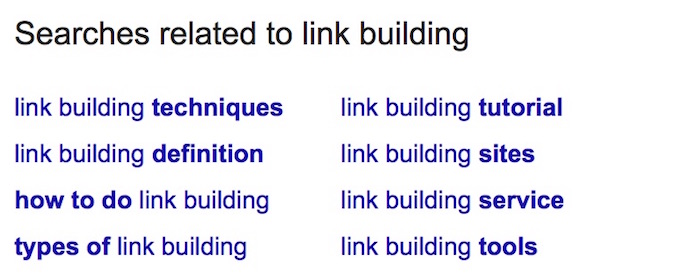 If you were to click on one of those and check out the related search terms for it, you'd get even more long tails.

Step #3: Stalk your competitors.
This is the most underused technique.
Your competitors have already done the work. Why not see which keywords they're continuously paying to rank for?
An excellent tool for this is SEMrush.
Type in your competitor's URL and hit "start now."

You'll get a view of their Search Engine Optimization landscape including, top organic keywords, top paid keywords, organic position distribution, etc.
Their top keywords make for good targets.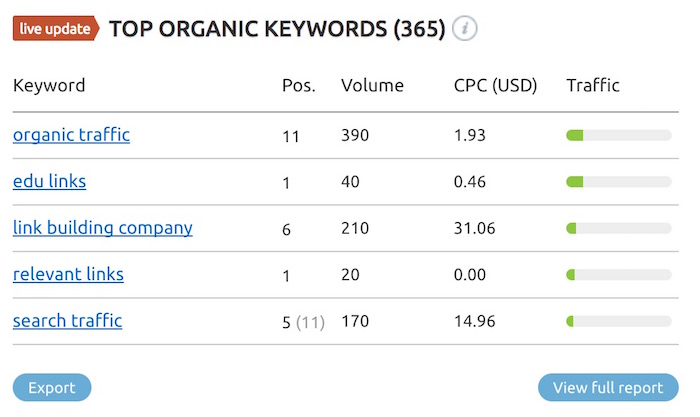 Go through the steps above, and you'll have a winning keyword strategy.
One last bit of advice on keywords?
The days of stuffing your content with search queries are over. These terms are to be used strategically to boost your rankings, and not abused (that's if you want to stay off Google's penalty list).
Step 2: Content Strategy
Now that you've got your keywords, it's time to create some stellar content.
Without content, Search Engine Optimization doesn't exist.
By content, I don't just mean articles. Videos, images, infographics, and pages all fall into this category.
Your sole job here is to create the kind of content that will rank at the top of the results page.
Here's my best advice.
Choose strategy over tactics.
What's the difference?
Here's what Wikipedia says:

Tactics are the moving pieces. The strategy is the big picture.
Your content needs to serve a bigger goal, one even more significant than Search Engine Optimization.
Optimizing content for search cannot be your end goal.
Brand awareness, lead generation, sales conversions… the pick is yours.
Validate your content before creating it.
Here's the deal:
Superb content takes time and effort to create. It means you want to only invest time into content that will be a slam dunk win with your target audience.
There are two ways I like to do this.
Publish snippets of your topic idea on your social media. See how much traction it gains in terms of engagement. Let that feedback determine which ideas you'll bring to life.
Find content that your audience has already demonstrated an interest in. The best tool for this is Buzzsumo. It will give you the most popular content based on your niche.
Create long-form and evergreen content.
But aren't attention spans getting shorter and shorter?
Yes, but long-form content still dominates search engines for a few reasons.
More content means search engines get more information about your page
Thorough content is more link worthy
Long-form content is more valuable to users
Your content should also be evergreen, meaning, it should have relevance years after it's published.
Give the search engines fresh blood.
Google is a shark in that regard. Fresh content is vital to good Search Engine Optimization health.
You can either:
Keep a consistent publishing schedule
Keep updating and republishing old content (Check out Backlinko's guide on relaunching old content.
Both of these are necessary.
Create content that provides direct answers to users questions.
Ever heard of featured snippets?
It's that prominent box that appears in response to a search query.
Here's an example: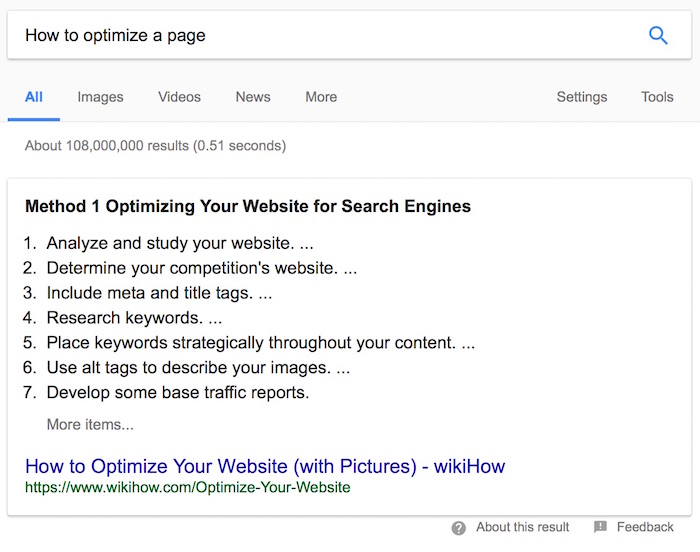 As you can imagine, acquiring this position is gold.
The point of these snippets is to provide users with exact match information about their query. So if you can create content that answers users questions directly, you have a solid chance of occupying that coveted spot.
Be mindful to format your content in such a way that Google can pull it as a featured snippet.
Optimize your blog posts and multimedia for your keywords.  
This one's a given.
Here are some best practices.
Place your keyword in your headline and subheads if possible.
Your keyword should be placed within the first 150 words of every blog post and several times throughout the body of the article.
Your images and videos should also be optimized. Rename your files to include your keyword before uploading them.
Master distribution.
Ever heard the saying, "content is king, but distribution is queen, and she wears the pants?"
It's true.
Your content is important, but it's not enough. Your ability to circulate your content across the web has an impact on your overall SEO.
My best tip is to repurpose each piece for different distribution channels. This way, you're not wearing your audience out with duplicate content, but you're maximising visibility.
Step 3: SEO-friendly code
The technical aspect of Search Engine Optimization is what scares most people.
Keywords and content? "Bring it on!"
HTML and schema? "No thanks, I'll pass."
That's usually the reactions, but I promise you – it doesn't have to be difficult. I'll give you some simple how-tos that you can implement without the overwhelm of technical jargon.
Sound good? Let's start.
Step #1: Create an HTML sitemap for your site and submit it to Google search console.
This makes your site easy for search engines to crawl and index. I covered this extensively in "Submitting your website to search engines: A Definitive Guide," so check it out.
Step #2: Use appropriate tags throughout your content.
For headings, you want to use the H1 title tag. This tag should only appear once in an article.

For subheads, you should use appropriate tags (H1, H2, H3, etc). These tags don't carry as much SEO juice as title tags but they matter.
Step #3: Make sure your URL structure is SEO-friendly.
You want your keyword to appear in your URL. A good rule of thumb is to format your URL like this: domainname.com/keyword.
Nothing else.

Step #4: Make sure your site's security protocol is HTTPS.
You're likely familiar with HTTP. This is a secured version.
Considering that Google considers site security as a ranking factor, this is critical. Here's a guide on how you can move your site to HTTPS.
Step 4: Usability and User experience
User signals play a significant role in SEO.
Moz calls usability and user experience (UX), "second-order influences on search engine ranking success."
It means that while they don't have a direct impact on rankings, they signal to search engines that a site is of a higher quality.
When you have an optimal user experience, here are some benefits you can expect:
More links as a user-friendly is link-worthy
Users will spend more time on your pages
More traffic and return visitors
Greater social sharing
All these affect SEO.
With that said, here are the elements of UX that you should care about.
1. Speed
Your pages need to load in 2 seconds or less. That's about how long most visitors will wait before they abandon your site and never return.
Scary, but it's the reality of this fast paced world.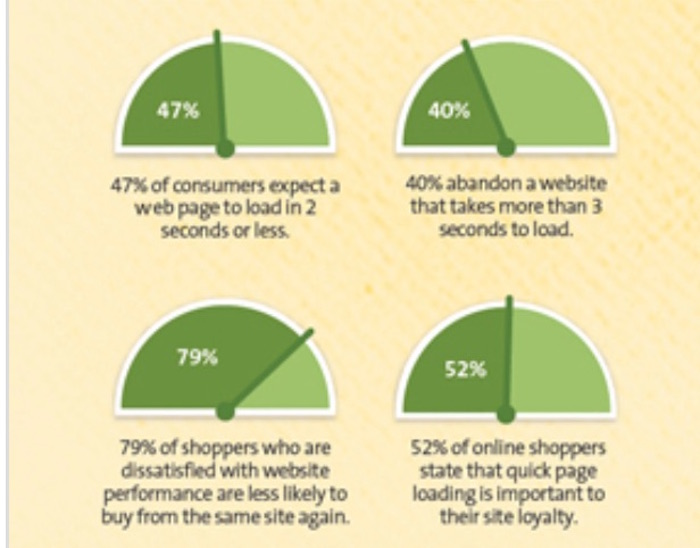 Fortunately, faster loading times aren't difficult to achieve. Here are some quick fixes:
Image compression
Use of a CDN
Faster servers
Mobile-friendliness
If your site is not conducive to modern browsing habits, you're toast.
Mobiles and tablets have 55% share of web traffic. To top it off, there's a 30% year-on-year increase in traffic on mobile phones.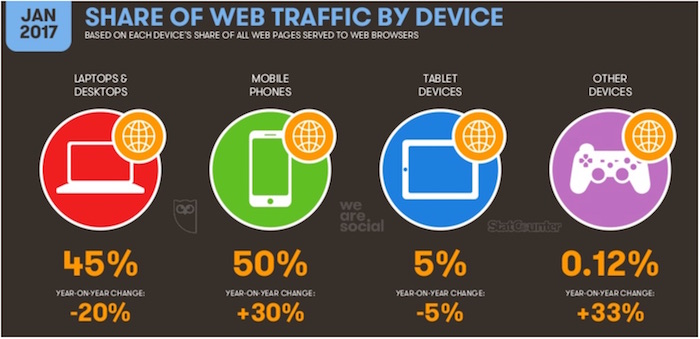 Most websites come mobile-friendly, so this isn't a complicated fix. Do a mobile-friendly test to see where you stand, and make the necessary adjustments.
Search intent
A major part of user experience is giving users exactly what they want. It means you need to predict what the intent is behind a search query and create content that satisfies that.
If you do the depth of keyword research laid out in step one, you'll have a pretty good handle on what your audience wants.
Navigation and information architecture
The bottom line?
You need to make your users life easier.
It means your site should be simple to navigate and figure out. Here are some tips.
Build extensive internal links.
Your primary navigation should be simple, without too many options, and consistent across all your web pages.
Have solid call-to-actions to give users cues as to what to do next.
Everytime concepts that are seemingly intangible come up, marketers get nervous. Authority isn't measurable, so how do you know if your SEO is serving that purpose?
Same goes for credibility.
Here's the thing though:
These two factors are crucial to SEO.
No authority means no influence. And if you can't influence people to take action, you don't have a business.
Similarly, no credibility means no trust. And if people don't trust you, there's no way they're betting their money on your solutions.
It's as simple as that.
Let's delve deeper into the factors that come into play here.
Trust and authority metrics
Google has its way of determining if your site is trustworthy or not. All the SEO strategies I've mentioned thus far, including content, site speed, and site security, have a part to play in your trust factor.
As for authority, it's determined two ways:
Page Authority (PA): this refers to the score that predicts how well a particular page will rank in the SERPs. The higher your score out of 100, the higher your ranking power for that page.
Domain Authority (DA): this is like Page Authority but refers to the ranking ability of your entire site.
According to Moz, there isn't a score that's quantifiably "good or bad" for either PA or DA. Instead, these metrics should be used as comparative measures.
This means that a "good" score will depend on what your competitors are scoring.
You can use Open Site Explorer to check your Authority.
Plug in your domain, and hit "search."

You'll get a range of SEO metrics including PA and DA.
I recommend checking that of your competitors as well.

Brand equity
Your brand authority holds a stake in your SEO success.
If you have a leg up in the branding game, it's going to be that much easier to dominate your competitors not just in search, but in business.
Here's what you can do to build brand equity:
Design a magnetic and unforgettable customer experience. This way you can turn your customers into brand advocates.
Use social campaigns to generate buzz and engagement for your business. One of the most effective is user-generated content campaigns.
Guest blog to spread your name and message across the web. This also builds on your authorship.
Strive for omnipresence with your marketing strategies. You want to be everywhere, so your brand becomes immediately recognizable to your target audience.
Build a community where you deliver free value to your audience.
Link building
It's no mystery that links have a pivotal role in SEO. The more links you have, the higher your ranking power and traffic potential.
Here's what you should consider when building backlinks.
Relevance: Your link should be relevant above all else. Keep in mind that there are several layers of relevance. The surrounding body content should be closely aligned with the link, and so must the destination page.
Authority: Although it's not an easy feat, always strive to be linked by authoritative sites.
Link position: This is rarely talked about, but the placement of your link on the page is crucial. You want it to be prominently embedded within the body of content and not in some obscure place in the sidebar or footer.
Anchor text: Your anchor text should be descriptive of the link and not stuffed with keywords.
Nofollow vs. Dofollow: If you want a backlink to count as an endorsement of your site or page, it should be a dofollow link.
Social capital
You may not think about this, but social networks are also search engines. Google even indexes some social media content.
If you were to search for a brand, their social profiles would likely show up on the first page of search results.
Want proof?
I Googled "The Upper Ranks," and three of our social profiles turned up on the first page.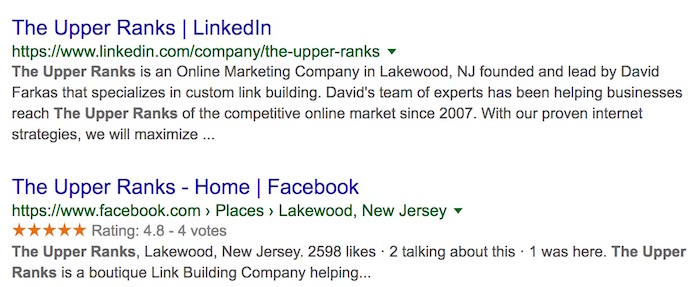 That's why it's critical that marketers work on generating stronger social signals. It's going to impact your rankings indirectly.
Here are some ideas.
Use keywords and keyword-rich hashtags in your social content. Although not all social media posts are indexable content, some of it is. So you might as well optimize your content to be found by search engines.
Understand that engagement matters more than a large following. You want people to share, comment, and interact with your content. This way, it can gather more links and even more engagement.
Step 6: Maintaining SEO awareness and iterating your strategy
We've covered quite a bit of ground where SEO is concerned.
Can any beginner take these strategies and dominate search with it? Absolutely.
Will these strategies be viable months or years down the line? Nobody knows.
I can't tell you how many times Google's algorithm has either drastically changed or slightly evolved. That's why it's so critical that you stay on top of everything that's happening on the SEO landscape.
It's a very fickle field that needs constant monitoring and maintenance.
Optimizing your site isn't a one and done deal.
You need to keep moving with the tide as well as measuring key metrics to ensure that your efforts are yielding fruit.
Make this your mantra:
Move, measure, and iterate quickly.
Here are some quantifiable metrics to you can track.
Overall organic traffic
Organic traffic based on individual keywords
Backlink profile
Page and domain authority
Average time that users spend on a page
Average number of pages per user
Returning visitors
Bounce rate
Crawl efficiency and indexation status
Conversions from organic traffic or specific keywords
All these metrics can be measured and analyzed using Google Analytics and Google Search Console.
Recap
When you gain a solid grasp of SEO, you'll notice that your overall online presence will start yielding cold hard ROI.
More people will notice and engage with your content. More people will recognize your brand and spread your message.
It's why you can't opt out of doing SEO. It's too powerful a strategy to neglect.
I hope this guide has made you realize that search engine marketing isn't a tough nut to crack. The strategies are simple.
Be consistent with what's been laid out in this post, and your online presence will flourish in a way that feeds your bottom line.
What SEO strategies are you excited to put into action?