How good is the best website in the world if no one ever sees it?
Is it still the best website in the world?
Let's get sidetracked for a second. Imagine the best movie ever made. It has great acting, authentic costumes, dialogue that's both realistic and witty, romance, humor and an epic scene where a news helicopter chases a rogue ice cream truck across a frozen river.
Sounds great, doesn't it?
Well, it's only a great movie if someone sees it. Imagine the producers of the best film in the world never asked anyone to see their movie. No one ever heard about it because they never invited anyone to view a screening. The only people to ever see the greatest piece of cinema ever created were the people that created it.
It's a tragic hypothetical story, but it's a story that applies to hundreds of thousands of websites.
No one ever sees them in search results because they have no links; and they have no links because they never asked for any.
Links are the difference between popularity and invisibility.
You're Unlikely to Rank Without Links
No matter how many people badmouth SEO and link building, websites just don't tend to rank well without good, relevant links.
The rhetoric surrounding link building changes all the time. It often falls in and out of favor, and processes are constantly refined by the best minds in search marketing.
It doesn't matter what the latest buzzwords are, though— links still matter.
Last year Cyrus Shepard wrote a post for Moz called "Can You Rank in Google Without Links? New Data Says Slim Chance."
Moz studied the first 50 search results for around 15,000 keywords. Here's what they found:
"Out of the top results, a full 99.2% of all websites had at least one external link. (The remaining .8% is well within the margin of error expected between Mozscape and Google's own link index.) The study found almost no websites ranking for competitive search phrases that didn't have at least a single external link pointing at them, and most had significantly more links."
A whopping 99% of websites ranking for competitive keywords had at least one external link. Most of them have many more.
What more?
Google themselves recently confirmed that links are one of the top ranking factors.
That's certainly something to think about, right?
A Quick Note on Good Links
Before you start thinking about how you can gobble up as many links as possible, let's take a step back for a moment.
There are good links and there are bad links. Bad links come from spammy websites, irrelevant websites, unsecure websites and robot-curated directories that no human has ever laid eyes upon.
Good links come from relevant websites and they're created and constantly monitored by human beings. If you build a dozen spammy links to your site, you might not get penalized– but you surely won't see any improvement in your search rankings either.
Your links need to be relevant. Every link has to be thoughtful. Every link has to be something that makes sense– something a human being would actually click on.
Here's Cyrus again:
"… most people would be surprised to learn how many links don't actually help you to rank, or can actually hurt. To play within Google's good graces, it's best to understand Google's guidelines on manipulative link building, and knowing what types of links to avoid.
The safest link building is simply link earning, and to get your content in front of the right people."
But we're getting to that old conundrum of link earning vs. link building again. If you never, ever ask for a link (aka build a link) in the first place, how will anyone ever find out about your site? After all, it would be impossible for someone to link to a website that they don't even know exists?
Content marketing experts can talk about 'compelling content' and 'link earning' until they're blue in the face, but webmasters can't link to a website that they can't find.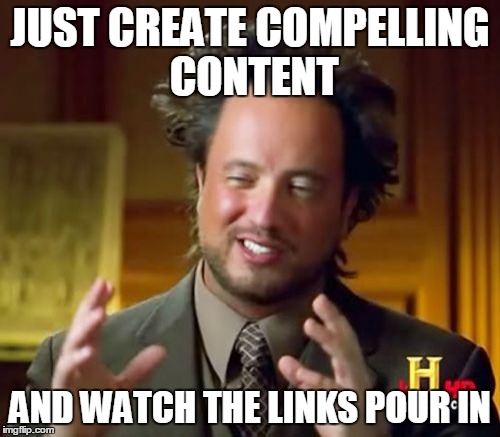 You need to get your website in front of the right people.
Link earning, link building, public relations, content promotion; call it what you will. It's still just fine to ask for links, as long as you don't violate Google's link schemes guidelines.
Don't let anyone prod you into panicking.
Links in Action
So, we have the Moz data and it's pretty incredible. Ranking in Google means at least one or two external links to your site. There are other factors, too, of course (including usability, ease of navigation, content, etc.), but we're going to focus on links for now.
And, you know what?  Depending on your niche you might only need a few to see your web traffic increase. A few quality links are better than no links or a dozen spammy links.
I ran a few local dental practice websites through Moz's Open Site Explorer (which is a great tool among others, if you ever want to check on your own backlinks) and the results speak for themselves.
The number one organic search result for "Lakewood NJ dentist" is, at the time of this writing, Lakewood Family Dental.

OSE says Lakewood Family Dental has 94 links from 17 total domains. For the moment, let's focus on the number of linking domains, because that's usually more important than the sheer number of links that a website has.
More from Cyrus:
"It seems obvious, but the study confirmed the long-standing correlation between higher rankings and the number of external links found from unique websites.
Indeed, out of all the data points the ranking correlation study looked at, the number of unique websites linking to a page was one of the highest correlated relationships we found."
17 domains isn't a ton. If you think about it, that number is totally doable. You can see yourself asking 17 different websites for a link.
But how relevant are Lakewood Family Dental's links?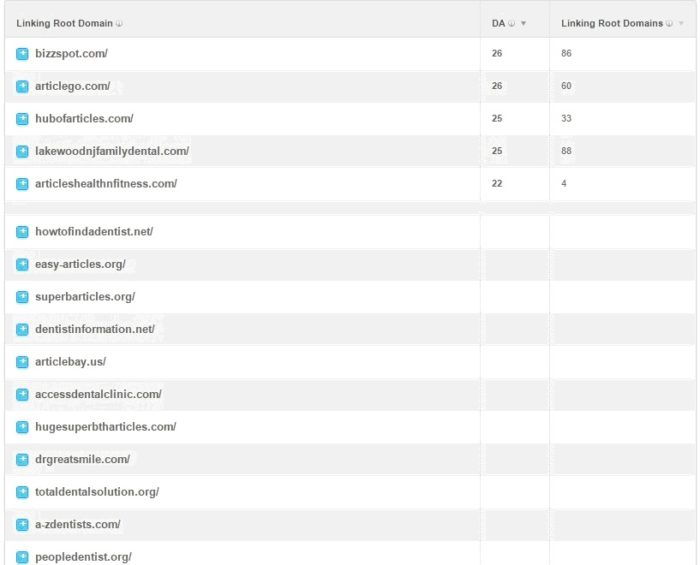 It looks like most of them are pretty good. There are a few domains on the list that aren't so relevant, but chances are those links were built before Google's algorithms really started cracking down on spam, garbage and irrelevant hyperlinks.
Lakewood Family Dental mostly has links from other dental-related websites. They don't have a ton of them, but they rank really well for a pretty good search string. They asked for some relevant links and it paid off.
Let's look at another example– Madison Dental. Madison Dental is still on page one for "Lakewood NJ dentist," but they're a few results behind Lakewood Family Dental.
Here's their report from OSE:

That's a lot of links coming from very few domains. Let's dig a little deeper.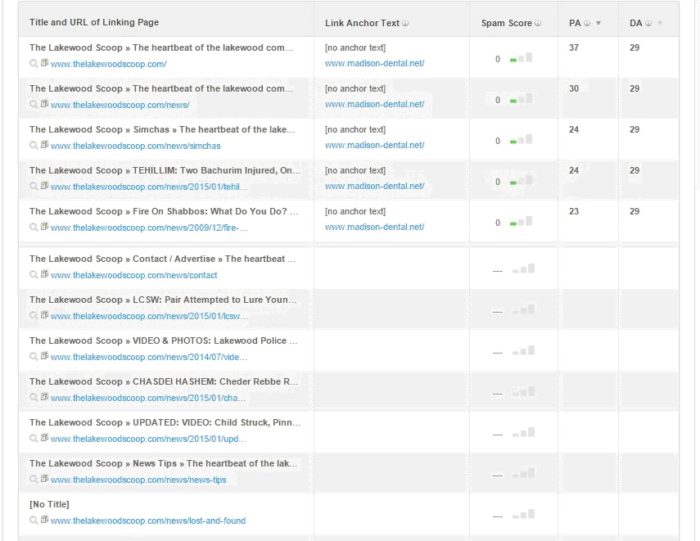 All of those links come from one website (The Lakewood Scoop), which is relevant because it's Lakewood-based. There are some strange things happening here in terms of the disproportionate amount of links per domain, but that's a story for another blog post.
Instead, let's just focus on the relevancy: it's there. A local Lakewood blog is linking to a local Lakewood business.
However, Lakewood Family Dental has external links from more linking domains. They have a greater variety of relevant links, which is why they're ranking above the competition.
Let's take a look at one more example. Leisure Dental is hovering around page three for the same search string; their visibility is not great.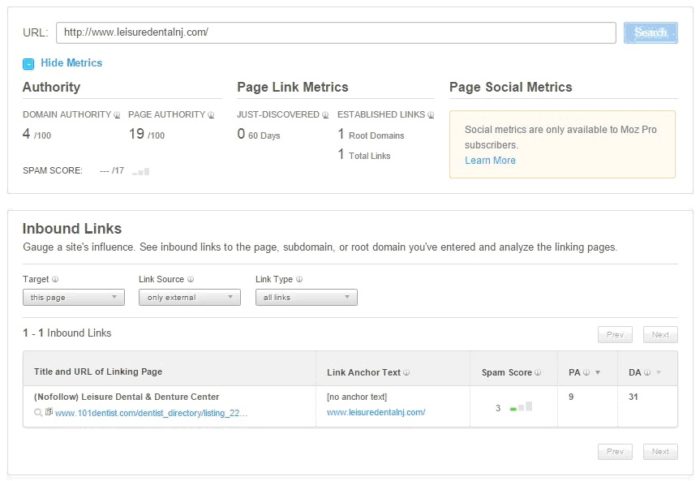 According to OSE, they have one link from one domain; a directory link. It's still relevant, but it can't compete with what Lakewood Family (or even Madison) has.
Dentists reside in a fairly competitive niche, but the evidence here shows that a thoughtful, well-planned link building campaign can work wonders for any website that wants to rank higher.
It really is possible to rank much better in Google with a handful of good, relevant links.
Once you start asking for links, your site will naturally rank better– and you won't suffer the fate of our hypothetical best movie in the world.
If you want to rank in Google, then you need links. And if you want links, you're going to have to ask for them.
Get out there and start asking.