Has it ever occurred to you why Google hasn't updated PageRank since 2013? Something tells me it wasn't Google's way of endorsing Domain Authority.
Still, in my conversations with clients and other link builders, DA and PR come up all of the time. For example, I was recently contacted by a prospective client who asked me, "If we go through with a link building campaign with The Upper Ranks, can you guarantee us an increase in Domain Authority (DA)?"
That prospective client was well meaning. I understand where they're coming from and it's a question I receive fairly often in one form or another. Domain Authority is indeed a cool metric. Who doesn't like to see what a website scores out of 100? It can be a pretty useful metric sometimes, too. But DA is not a metric I rely on to determine SEO success.
I replied, "In terms of success, I don't use an increase in DA as a metric of a successful link building campaign. It's a tricky metric that doesn't always tell the full story. Just as an example, the latest DA update pretty much brought everything down across the board. Yet, our clients saw increases in both their rankings and traffic."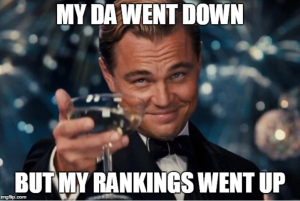 Domain authority doesn't tell the full story. As such, it cannot be used as a metric of a successful link building campaign.
I've seen instances where an update in the algorithm lowers DA across the board. Yet, our clients continue to see an increase in their rankings and traffic. Obviously, rankings and traffic are the most important metrics to measure the success of a link building campaign.
But when I'm prospecting websites? When I'm asking for a link?

Relevance wins, every single time. An irrelevant domain with a high DA score can't hold a candle to a site that's firing relevancy on all cylinders. Of course, it's possible that there will be sites that boast a high DA number and are incredibly relevant to any given site. Those are the unicorns of the internet.
Let me say this, though: Both relevance and authority matter. Both should be evaluated in link-building. But if I have to choose one to focus on, I would take relevance any day over domain authority. That's not to say that Domain Authority isn't sometimes useful, however. Let's get into a few reasons why I choose relevancy over DA, but DA still has its place.
We've already established that DA isn't the end-all, be-all. So what is it? What role does it play in link building?
Here's what Moz has to say:
"Domain authority is search engine ranking score developed by Moz that predicts how well a website will rank on search engine result pages (SERPs). A Domain Authority score ranges from one to 100, with higher scores corresponding to a greater ability to rank."
Many factors are included in this calculation. Some include the number of total links, linking root domains, and several other signals (more than 40!).
The kicker is, we don't even know what all 40 of these signals are. And no matter how good your SEO efforts are, expect this score to fluctuate.
Ideally, you should just use Domain Authority as a comparative metric and not an absolute parameter to score the success of your link building.
That's the primary appeal of the DA score. As human beings, we're obsessed with percentages, stats, and comparing numbers. A score out of 100 is tangible and concrete.
It makes the life of marketers easier. You can put one site up against another and see which one emerges on top based on a simple score. Of course, like most grades, it doesn't paint a complete picture. However, it's still an important indicator of search engine ranking power.
I'm also big on keeping business goals specific and measurable. A DA score makes it easier to keep your SEO efforts accountable to a specific number. You put in the work. You improve all aspects of your SEO. And there it is staring right back at you: A big fat number that explains how "good" your site is. That's worth something.
Why relevant links are even better
With all the benefits of DA laid out, it should never be the sole determining factor when you're pursuing a link. After all, DA doesn't determine the relevance that one site has in relation to another. When you're building links, relevance is paramount to anything else since these are the links that are genuinely in their natural habitat. These are bona fide natural links. That's essentially what relevance refers to. A link where the destination page is on topic and useful to the user.
It makes sense for users, and that means it also makes sense for search engines. It's a good, high-quality link, regardless of DA. When a user clicks on it, they'll be pleased with the results. That's the whole purpose of a link after all; connecting and bridging pages of the internet in order to create a better user experience.
Relevance is a sure thing. If the target site is relevant to my target site, it has good content and it passes the "run by real humans" test, then that is where my link belongs. 
There are also plenty of great sites that have low DA scores for various reasons. They have awesome content, they provide a great user experience, they're curated by humans, and they're relevant to a client's niche. However, they just don't have that magic number attached to them. 
So let's say I rub a magic lamp, and some bizarre link genie pops out. Instead of three wishes, the genie is going to grant me one of two links: a link from a relevant site with a DA of 35, or a link from an irrelevant site with a DA of 45.  45 is a great DA score. No doubt about it. That domain has been around, and people trust it. It will definitely pass over link juice.
In this fantasy scenario, I'd say, "Well, Ms. Genie, I'll take the relevant site with the 35 DA score. Thank you for granting me your strange, magical link."  The relevant link makes sense.
Relevance yields targeted referral traffic and conversions
It's easy to get caught up in the technicalities of link building and SEO. The problem? Most people forget that all these strategies are there to do one thing. Serve your business. More specifically, it should fuel the marketing and sales pillars of your business by influencing conversions. Highly targeted referral traffic is the first step in that process. The more quality traffic you have coming in at the top of your funnel, the more efficient your whole system will be. I can say with all certainty that relevance is better for driving the type of traffic that leads to conversions. But can't higher authority sites drive even more traffic?
Perhaps, but with no relevance, you have zero chance of converting customers. I'll tell you why. Relevance means context and a link that makes contextual sense is always better from a user's perspective. Put yourself in a user's shoes for a minute. Your average website visitor doesn't even know what DA is. They're on a website consuming content or researching a product or service. When that user clicks an external link, they have a specific intent and expectation that the destination page will satisfy that.
Domain authority has no weight in this case. It is a relevant link that will ensure that the user receives information that is useful and on topic. Anything short of that and you've lost a potential lead.  If the destination page isn't relevant or useful you can be sure they will bounce right off and never come back. Don't just take my word for it. Statistics show that if 100 online consumers have a bad experience on a website, 88 of them won't come back.
Relevance is a stronger ranking signal
That top spot in organic search is prime real estate. Every marketer wants it, but securing it is a tall order. Many people make the argument that relevance isn't as powerful a ranking signal as DA because it isn't as concrete.
Perhaps in an SEO realm where the user doesn't matter, that may be the case. But it's an incredibly misguided view. Think about it. A relevant link makes the most sense for a user because it is likely to match their intent. If the information on the given page has more utility to the user, it's undoubtedly a more click-worthy link.
When you're in the top spot of organic search, your click-through rate is several factors higher than the guy in number two. Isn't it in the best interest of search engines to display the most relevant content at the top? Sure it is. The same logic applies here. It makes sense for users, and that means it also makes sense for search engines.
It's a good, high-quality link, regardless of DA. When a user clicks on it, they'll be pleased with the results. That's the whole purpose of a link – connecting and bridging pages of the internet to create a better overall user experience. Top ranking content is dependent on what the user will find most useful to their search query. Stick to that principle, and you won't go wrong.
Relevance is more scalable
I'll tell you what. Tangibility is not always a pie-in-the-sky quality. It has its faults. For one, if it's measurable, it means it's always in flux. Domain authority can go up and down. Considering we don't know every single factor that goes into the calculation, these fluctuations may not always be of your own doing.
This could either be catastrophic, or positive. Let's focus on the good – you can work towards increasing your authority. So, relevant links have the potential to become authoritative over time. And that's what I mean by scalable. But that's not all. As you know, high-authority links are rare and difficult to land. It is infinitely easier to gather a big list of relevant links in your niche than it is to find authoritative links.
If you decide to target only authoritative sites, you've immediately narrowed your prospect pool. You'll have less links and the likelihood of them being relevant to your site is just as small. If we're talking about high-impact and low-effort, I'd put my confidence in relevant links any day. That's not to say that landing relevant links is always easy and effortless. But you'll certainly get more value for your work.
Relevant links are more organic and sustainable
You can't talk about link-building without bringing up sustainability. Relevant links are the ultimate natural link. They are as a result of having quality linkable assets as opposed to deliberately manipulating Google's algorithm. The superficial metrics can take you so far, but ultimately it boils down to two things:
Creating content worth linking to
Linking to content that is useful to your user
Placing a bull's eye on relevance is the surest and most organic way to hit these sweet spots.In fact, relevance has a domino effect. Your authority will increase, and your entire SEO profile will be strengthened if you focus on quality linkable assets.
Recap
When all is said and done, I still believe DA is a great metric and if I can build a relevant link on a site with a high DA score I always will. But DA is not my focus.
The relevant links I build are the real success stories. Trust is maintained for both sites and these are the links that fuel rankings and traffic, every single time.
When it comes to finding target sites for a link building campaign, nothing beats good, old-fashioned relevance.