This isn't one of those click bait posts that offers no real valuable content or takeaways.
I'm not claiming you'll have a revelation at the end and be able to build the perfect number of effective links for your website.
Instead, I'll show you four successful sites of varying sizes, explore their backlink profile, tell you why those backlinks are effective, and tell you how you can use these sites as an example in your own link building efforts.
However, first, let's get one thing out of the way– a perfect backlink profile is different for every single site. What makes for a perfect backlink profile for a small blog won't work for an eCommerce website. A popular mom blog can't seek the same links an auto repair site might seek.
A perfect backlink profile includes:
Relevant industry/niche links
Relevant local links
A natural proportion of links from smaller sites, and links from larger, authority sites
Building relevant links is hard but necessary work. Relevant links will boost your search engine visibility and elevate you above your competition.
You want to seek links from unique domains. If you can build either 10 links from one domain, or 2 links from different domains, I'd always choose the latter.
Focusing on relevant links from more unique domains will help you build that "perfect backlink profile," but, as you'll see in the following examples, links from authority sites can go a long way, as well.
But, above all else, the perfect backlink portfolio is the natural backlink profile.
It simply looks unnatural if 80% of your links are coming from huge, authority sites.
I chuckle when I look at someone's backlink profile, and it's solely compromised of links from Forbes, Entrepreneur, Inc, and the likes.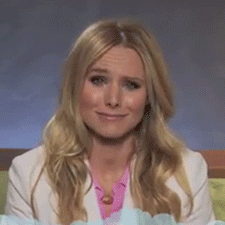 Just like it's unnatural to have most of your links coming from low-quality irrelevant sites, it's equally unnatural to just have a handful of links from high authority sites.
The natural backlink profile will have a majority of its links coming from niche-related sites, relevant bloggers, links from relevant directories, no-follow links, and links from domains like Tumblr and Blogspot.
Your overall backlink profile must make sense for your website.
Now, let's look at some examples.
Backlinks for Large, Authority Websites – Bleacher Report
If you're reading this, you probably don't own a giant website that gets millions of visitors per month. Neither do I.
But we can learn a lot from these huge sites. Let's look at https://bleacherreport.com/ as an example.
According to SimilarWeb, this is what their traffic looks like: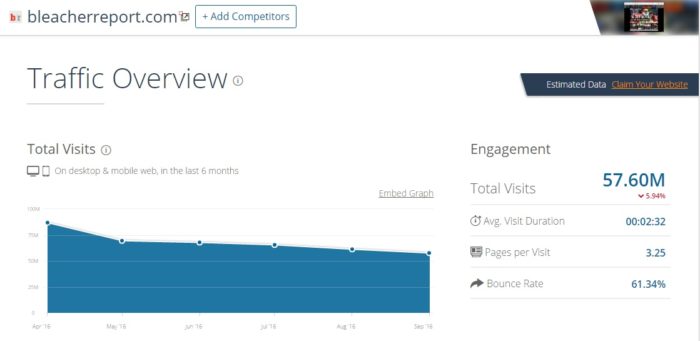 That's likely more traffic than you or I will ever see. Bleacher Report is a gigantic site.
And there's a reason for that. As far as original content goes, it's by far one of the best sports sites on the web. It's great for news, analysis, and entertainment. So it's no surprise it's huge. It's also owned by Time Warner, which means it likely has a nearly infinite budget for marketing, SEO, PR, and link building.
You and I can never compete. But let's see what we can learn.
Here are some quick stats for B/R courtesy of Ahrefs:
Domain Rank:

69

Linking Domains:

82.4k

Total Links:

16.7M

New Linking Domains (past 30 Days): 10,413
Average DR of New Linking Domains: 35
Authority Links From:

Google News, CNN, TMZ, Yahoo, NBA.com, Mother Jones

Relevant Niche Links From:

Doghouse Boxing, Arrowhead Addict, Call of the Pen, Spectors Hockey, FantasyPros, Daily DDT, The Viking Age
Here's what their Ahrefs overview looks like: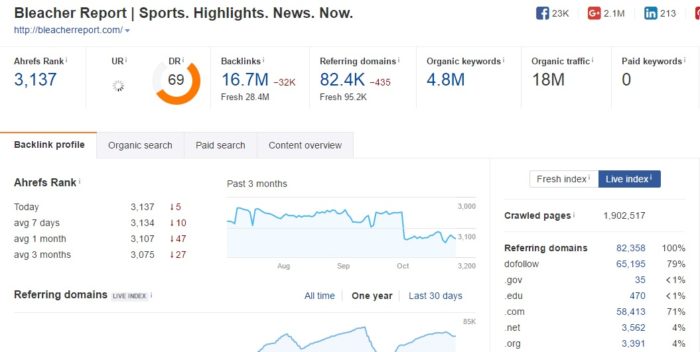 Sites like TMZ and Mother Jones don't inherently have much to do with sports. But the fact that Bleacher Report has links from those sites mean their content is valuable. Almost everything they publish is a linkable asset, and they're just as likely to land in a Yahoo News or a CNN piece than they are to end up on a niche sports blog.
Plus, when the actual NBA links to your content, you know your writers are doing a good job.
Thousands of small to medium sized sports sites link to Bleacher Report, and that should come as no surprise. B/R has the budget to hire the best sports writers in the business, so chances are they're not even asking for most of those links.
You and I aren't so lucky.
According to Ahrefs, B/R has 16 million links from 82,000 unique domains.
Over the last 30 days, the average DR of linking domains for Bleacher Report is 34. This makes total sense– they have so many links coming in from all sides that the huge, authority sites are rounded down by smaller sports blogs. There are more links from small, personal blogs coming into Bleacher Report, even if they get more than their share of high-authority links, too.
When you have that kind of talent in your writing pool, coupled with a limitless marketing and promotion budget, you're bound to earn a ton of links without asking for them. These huge sites are unstoppable juggernauts in that regard.
Which is totally natural. Bleacher Report has a natural backlink profile because they're a huge site that rakes in link after link because their content is good and well-publicized. There's some spam there, but that's also natural for a site this big.
Even with that many links, Bleacher Report's backlink profile looks nearly perfect because it's the kind of link portfolio a site this big should naturally have.
We, on the other hand, have to ask for links. And we'd be hard pressed to ask for 16 million of them. B/R has a great assortment of authority links and relevant niche links from smaller sites, but it's nothing most of us can ever aspire to.
Backlinks for a Medium Sized Website – Eric the Car Guy
Eric the Car Guy doesn't have the same big-name status as Bleacher Report, but it is an excellent website by almost any definition.
ETCG features a ton of educational content but the website also hosts premium content and sells merchandise. It is a business.
Fortunately for the average car owner, ETCG gives most of its content away for free.
Here's a look at the website's traffic metrics: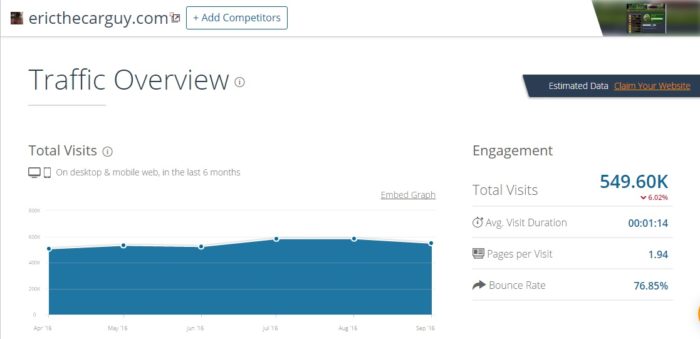 This site is obviously doing very well.
As with Bleacher Report, nearly every page on ETCG is a linkable asset. If you had a job building links for this website, you'd have a pretty easy and cushy job. Their content is that good, and their brand is well liked.
But they started small, and they don't have a Time Warner budget.
They started from scratch, just like you and I. Let's take a look at some quick stats courtesy of Ahrefs:
Domain Rank:

49

Linking Domains:

 523

Total Links:

 15k

Average DR of Linking Domains: 40
Authority Links From:

Wikihow, Allstate, NBC Dallas Fort Worth, Curious.com, Bloglovin

Relevant Niche Links From:

Pellon Auto Centre, Fixya, Eric Peters Auto, Auto Nerdz, Audizine
Here's the Ahrefs overview: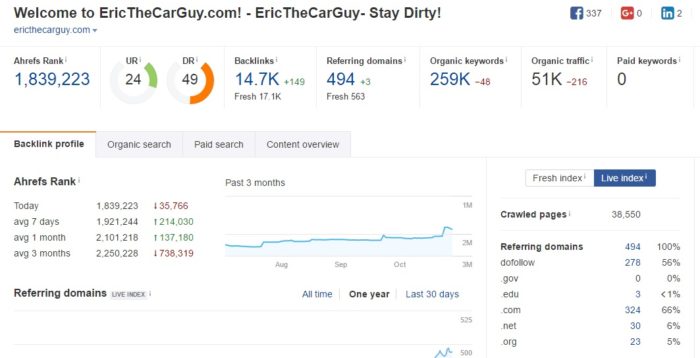 If you're trying to build links for a business website, Eric the Car Guy is a great example of what your perfect backlink profile might look like.
ETCG has links from Allstate, Curious.com, Wikihow, and even local news stations. For any small business website or money-making blog, all of those are huge.
The site also has a ton of links from other automotive sites, which makes sense because their content is so useful. Everyone from auto dealerships to DIY repair sites link to ETCG. We'll never know for sure if they have a link building team or not– but if they do, their team is doing an amazing job.
The average DR for sites linking to ETCG is 40, which is pretty normal. If you're focusing on building high quality links, that's a good number to shoot for. Eric the Car Guy gets links from both high-authority sites and smaller, personal blogs. A DR of 40 is a good, realistic average for linking domains.
But here's the interesting thing about ETCG– the site has more no-follow links than it has do-follow links. By about 1,000 links' worth.
This is the most important takeaway here– don't let anyone ever tell you no-follow links are useless. They may not move the needle in search engine rankings, at least directly, but they're great for traffic.
ETCG gets around 100,000 visitors per month, according to Similar Web. I'm willing to bet a ton of that traffic comes from forum links, most of which are no-follow.
People reference ETCG in forum threads all the time because their content is just that useful. Those links get clicks, and the site gets traffic. That helps them sell more merchandise and premium content subscriptions.
There's another side effect from all of those no-follow links, too– they're really good for long tail searches, which directs visitors to those forum posts, and then finally to ETCG's content. It's a more roundabout form of search engine visibility, but it's still effective.
Don't be afraid of no-follow links, especially if they're relevant.
For ETCG, those nofollow links are natural. Their content comes up on forums because it's educational, so all of those links make sense. Even if they post links to their own content in those forums, it's clearly appreciated by those forum members.
For many sites, having more nofollow forum links than editorial dofollow links wouldn't be natural– but for Eric the Car Guy, it's perfect.
Building a new do-follow link from a unique domain should almost always be your goal, but relevant no-follow links on real, human-read websites can help improve your traffic, which is what we're all after in the first place.
And– Eric the Car Guy has very few spammy links. They probably don't have to spend much time removing or disavowing spammy links at all.
Instead, they can focus their limited time and budget on getting web traffic and making money.
Almost every backlink in ETCG's profile is something a prospective customer might actually click.
Their links make absolute sense.
That's the perfect backlink profile.
Backlinks for a Personal Blog – Eat Wine Blog
Liz Caskey's website, Eat Wine, is a smaller personal blog with incredible content. It focuses mostly on food and travel. The site does serve ads, and that's likely how she makes money from it.
This is a great model for a personal blog.
Again, we're seeing a pattern– almost every page on Eat Wine Blog is a linkable asset.
Let's see if Similar Web's traffic analysis agrees: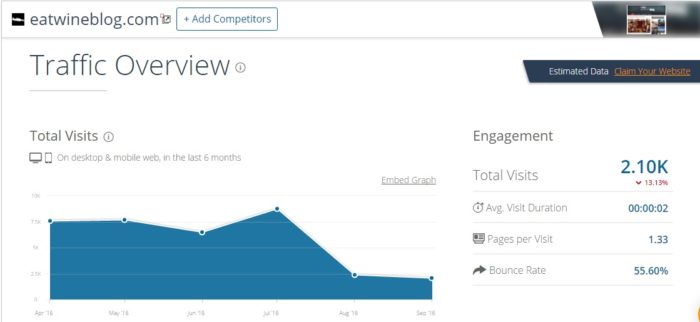 So, as we can see, EWB gets far fewer monthly visitors than Eric the Car Guy or Bleacher Report, but its bounce rate is also lower.
It's also worth noting that the site hasn't updated since July. No wonder traffic has fallen off so sharply.
That goes to show how important producing new content and building fresh links with some amount of consistency is for any website.
We'll assume that traffic was much, much better before content dropped off (which Similar Web supports) and say that EWB was a successful personal blog. It just dropped off because it's not producing new content and building fresh links.
Regardless, here are the key stats according to Ahrefs:
Domain Rank:

47

Linking Domains:

213

Total Links:

1.78k

Average DR of Linking Domain: 40
Authority Links From:

101 Cookbooks, DMOZ, PBS, Santiago Times

Relevant Niche Links From:

Wine Library, Dish Maps, Joe's Kitchen, Seashells and Sunflowers, That Useful Wine Site, Travel Dragon, a ton of Blogspot food and travel sites
Here's the site's Ahrefs overview: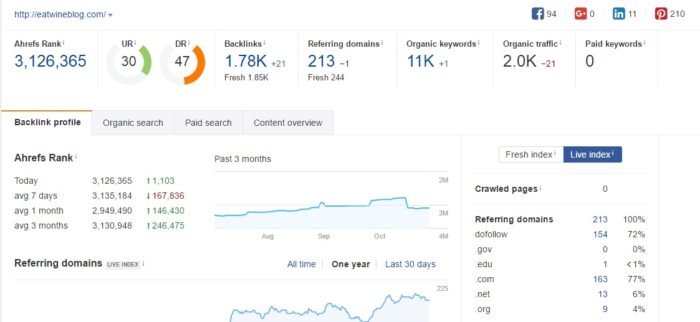 EWB has far fewer links than Eric the Car Guy, but it's Ahrefs Domain Ranking is nearly the same. 
There's a huge disparity in number of links between the two sites, but that's because EWB isn't earning that same amount of nofollow forum links. Those types of links don't make organic sense for this type of travel and adventure blog, because it's not serving up educational content in the form of auto repairs– it's serving up educational content in the form of experiences and worldly knowledge.
As with Eric the Car Guy, we're not seeing many spam links in EWB's backlink profile.
The site has few authority links, but the few they have are excellent. These are links that a small site with good content can realistically obtain. That link from PBS alone is a dream link for a smaller site. If your content can obtain that type of authority link, your search engine visibility will increase. It's not what Bleacher Report has, but it's excellent for a smaller site.
As with ETCG, EWB's average DR for linking domains is 40. As I mentioned in the ETCG section, this is pretty normal. Links come in from both smaller and bigger sites, and 40 is a good, realistic number for Domain Rating.
Most of EWB's links come from recipe and cooking sites, which shows that real people value their content. If they kept producing content, kept earning those kinds of links, and actively pursued link building, they would probably be a powerful force in the food and travel blogosphere.
Many of their links come from Blogspot sites, which probably don't move the search ranking needle much. Still, those are links blog readers actually click on. In this case, they're valuable links.
Though Eat Wine Blog has a good amount of links, they also have a realistic amount. Compared to the other sites we're looking at their link count is absolutely modest. But, again, almost every page on the site is a linkable asset, and nearly every backlink to their site is something a user might actually click.
That realistic amount of links, many of which come from small recipe sites and from Blogspot, is totally natural for EWB. They're not a massive site, but they've pulled in a proportionate amount of high-authority links to correspond with their foundation of links from smaller sites. Other than their recent inactivity, things are right where they should be.
If EWB kept producing content and focused on building some more links I'd say they set themselves up for the perfect backlink profile for a monetized personal blog in their niche.
Backlinks for an eCommerce Site – Ript Apparel
If you've ever tried to build links for an eCommerce site, you know it's often a tricky prospect.
That's because, in general, no one wants to link to your product pages. You want product page links, but no one wants to give them to you.
Let's take a look at an eCommerce site that built a great backlink profile, and then analyze how they got those links.
Here's the traffic report for Ript Apparel: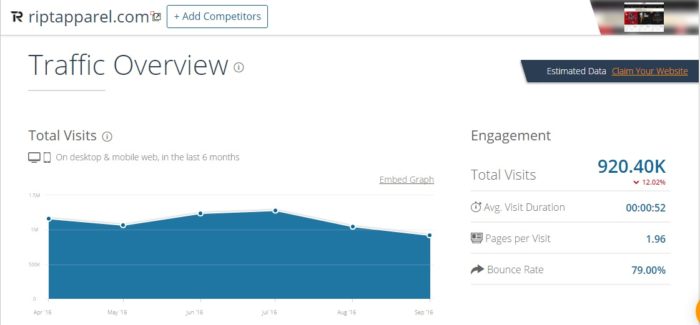 Their traffic is nothing short of spectacular.
Ript Apparel sells "geek" themed t-shirts based on television, movies, comic books, and other popular culture icons. They have a niche audience, but it's a niche that includes a lot of people.
Here are the vital stats according to Ahrefs:
Domain Rank:

54

Linking Domains:

2.08k

Total Links:

35.2k

Average DR of Linking Domains: 53
Authority Links From:

SlashFilm, BoingBoing, Nerdist, Kotaku, Duct Tape Marketing, Chicago Business, SFGate, Kerrang

Relevant Niche Links From:

The Mary Sue, Geeks Are Sexy, Cat and Dragon, Creative Fan, Geeks of Doom
Here's their Ahrefs overview: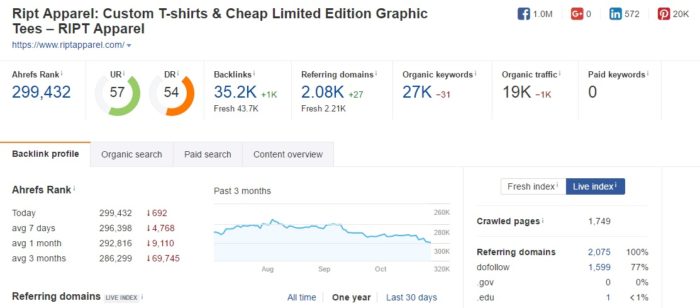 For an eCommerce site, Ript Apparel has a surprising amount of authority links. There are a ton of big, authoritative general "pop culture" sites on the web. Ript Apparel seems just as likely to get a link from a large movie site as they are from someone's personal blog about Batman.
Curiously, Ript Apparel has quite a few spam links. That's likely because the types of spammy posts that link to Ript Apparel are various (likely spun) "design roundup" posts that are very image heavy. Still, these posts probably appear legitimate enough in Google's eyes– even if few actual humans are reading them.
(Note: I'm not suggesting that Ript Apparel actively seeks out any spammy links, just that these post types are full of links and spammy by nature)
Where Ript Apparel really succeeds, though, is in links from relevant, niche authority sites like Laughing Squid, Cheezburger, Geeky Rant, Dorkly, and SuperPunch. These aren't sites the average person visits, but they're all popular and respected in various geeky communities.
They've also accumulated plenty of links from Tumblr sites, Blogspot sites, and Reddit. They have many more do-follow links than no-follow links, with a ratio of close to 30:1. That's impressive.
So, what's the average DR for Ript Apparel's linking domains? A whopping 54, which edges out the three other sites in this article by a large margin. They're clearly focusing on link building, and it seems effective to me.
So, how did an eCommerce site get so many links?
Partially, it's because people like their products. They design clever and interesting t-shirts that appeal to people who love pop culture. Interesting product photos and/or interesting products make decent linkable assets, and are great in this particular niche. No one wants to link to your product page… unless you designed a clever Game of Thrones shirt. If that's the case, the geek blogs will be beating your door down.
I do, however, believe that Ript probably engages in some amount of link building. They just know who to target, and likely know how to write a stellar outreach email.   
The other reason for their success? Image links.
Image links make up a good part of their link profile, which is good because the site itself is not huge on written content. Their images are their content and, in this case, that content makes for a fine linkable asset.
Ript Apparel knows its audience, and found a solid strategy for building links to product pages.
I also need to note that Ript Apparel sells many "limited time only" products, so a link to a specific product, as opposed to a product category page, might not benefit them as much. Regardless, they're still raking in the links.
Their backlink profile is far different from Bleacher Report's, Eric the Car Guy's, or Eat Wine Blog's, and that's by necessity.
Image links are a natural fit for an eCommerce site with visually appealing products, as are links from those smaller pop culture sites. I rate their backlink profile so highly because it doesn't just look natural– it is natural. They've innovated, but they haven't manipulated.
If you're building links for an eCommerce site, you have your work cut out for you– but at least now you know how it can be done, and what a perfect backlink profile looks like.  
In Conclusion
A perfect backlink profile looks different for every site. Regardless of the kind of site you're working on, though, there are some commonalities.
Seek links from relevant niche and local sites, but also seek a few "holy grail" links from more general, authoritative sites.
Also, think outside of the box. Eric the Car Guy's nofollow forum links seem to work great for their site, while Eat Wine Blog's links from smaller cooking, recipe, wine, and travel sites (even if they're Blogspot sites) seem to work very well for them. Ript Apparel's image link strategy also seems very solid.
You and I will never have Bleacher Report's budget, but we don't need it.
Above everything else, keep it natural. If a link makes sense, then go after that link. Don't just focus on those hard-to-get, high-authority links for a small site. Take those when you can get them, but graciously accept links from smaller sites, as well as some nofollow links where they're offered.
Make sure it's natural, and make sure it makes sense for your particular website.
Here at The Upper Ranks, we focus on links that are both natural and effective. If a link isn't relevant, we don't pursue it, no matter what kind of DR the website in question has. If a link from a smaller, low-DR site makes sense, we absolutely pursue it. If you only focus on "high-authority," you tend to get tunnel vision, which causes you to lose focus on your backlink profile and pursue less effective links.
EWB and ETCG's average linking domain of 40 is something you can realistically shoot for, and it should serve you well. Bleacher Report has so many links flooding in that I'd be surprised if they ever hit a higher average DR than the mid 30s. Ript Apparel is a larger site, but their link building efforts allow them to have an average DR of 54.
This makes sense for all of those sites.
I'm not suggesting you target an average number, but an average DR of 40 is realistic for smaller sites like yours or mine. It's totally natural.
As long as we focus on creating linkable content, reaching out to relevant niche and local sites, chasing the occasional white whale, and using outside-the-box strategies that apply directly to our websites, we will have an excellent shot at developing a perfect backlink profile.